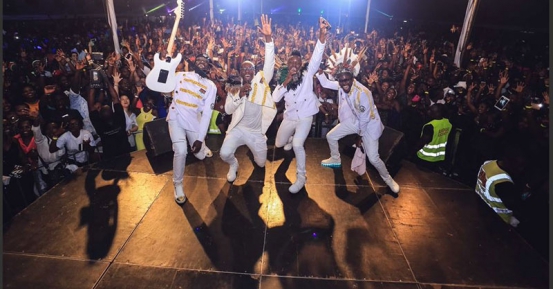 Sauti Sol's Live and Die in Afrika tour across Kenyan towns came to a close last weekend.
The band concluded their tour in Mombasa after five weeks on the road, which was a big success.
Speaking to The Nairobian, the band's manager, Marek Fuchs, said the tour was a big success.
"It took almost a year to prepare and pull off the show. We used over Sh63 million for the tours. We are glad we had sponsors who supported us and ensured it was a success," said Fuchs.
The manager said the band has been travelling with over 100 crew members, eight trucks carrying sound systems, a tour bus, top DJs from Homeboyz and arena personnel to ensure that they deliver world-class performance.
Fuchs said plans are underway to kick off the second leg of the tour.
"We shall be taking the show out of Nairobi to Kisii, Meru, Kitale and other towns in the country," said Fuchs.
The manager revealed that the band is looking forward to their African tour in South Africa and Morocco.
He said the five-week tour across Kenyan has inspired other artistes who are looking forward to treating their fans to quality concerts.
Bien Aime Baraza said the first leg of the tour has been amazing and given them a chance to interact with their fans and the corporate world in the country.
He said they aim to change the music narrative and show people that music can create jobs.
Baraza said they settled on the affordable charge of Sh300 for students and Sh500 for adults, so that their fans can attend the concerts in large numbers and appreciate the experience.
Vocalist Savara Mudigi said that the 'Live and Die in Afrika' tour was aimed at promoting their third album.
"The concert is about empowering the people and creating a big ripple effect among our fans in Kenyan," he said, adding that, "The concert came about when we went on tour in the States and Europe and realised how people there appreciate their music."