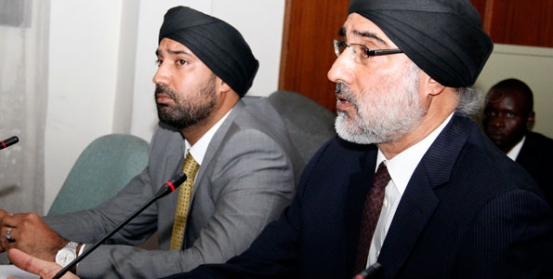 The Rai family is in the limelight once again after buying troubled Pan Paper Mills in Webuye for Sh900 million. Pan Paper is worth Sh18 billion, but it was indebted to the tune of Sh10 billion by the time it was placed under receivership in 2009.
The Rai Group has RaiPly, makers of chip boards, ceilings, block boards, parquet and wooden tiles and polythene bags for sugar companies. The group is Kenya's largest agro-forestry concern. It has spread its plywood wings to Uganda, Tanzania and Malawi - where it's the biggest wood processor.
Rai Group is also Kenya's second largest sugar miller through its West Kenya Sugar and Sukari Industries subsidiaries in Homa Bay. It is also Uganda's second largest miller through Kinyara Sugar Works, besides having interests in edible oils, fats and soaps (Menengai Oil Refineries), saw milling (Timsales), wheat farming, horticulture and real estate (Tulip Properties).
Tarlochan Singh Rai: The patriarch, alongside his siblings, had farming interests through Rai Brothers after buying tea and coffee estates in Zaire (now DR Congo) from Belgians who were leaving in 1963. In Kenya, he owned Rai Agricultural Estates, which was making tea chests for Rai Brothers, which was sold in 1969. The proceeds went into incorporating Rai Timber into RaiPly with his four sons; Jaswant, Jasbir, Sarbjit and Iqbal Rai in 1971.
Sarjit Kaur Rai: The wife of Tarlochan owns 25 per cent in Lukenya Flowers. Together with sons Jasbir, Iqbal and daughter Daljit Kaur Hans, she sued her hubby and sons Jaswant and Sarbjit over fortunes in a family dispute that lasted 14 years to 2013 when the Supreme Court dismissed the case.
Jaswant Rai: The chair of Rai Group, ran Rai Products, which sold stuff for RaiPly on credit. Alongside his father, Jaswant was the largest shareholder of Rai Products and Rai Investments. Her mother, Sarjit sued both for allegedly salting away fortunes from Rai Products and investing them without consulting other members despite a 1977/78 verbal agreement that all Rail fortunes were co-owned by all family members.
Jasbir Rai: Formed Wood Panels Ltd to market RaiPly products in 1993, thus snatching business from Rai Products. With brother Sarbjit, they co-own the Sh250 million Nile Plywoods (Uganda Ltd) and half of the Sh350 million Polypack Ltd in Kenya. Both ventures are bankrolled by their old guy's RaiPly funds.
Tajveer Rai: Alumnus of City University, London, is a safari rally buff and MD of West Kenya Sugar Ltd.
Onkar Rai: The two-time Division Two local Safari Rally champ is brother to Tajveer and MD, of Menengai Oil Refineries. When he wed his sweetheart, Damneet at Nairobi's Simba Union Club in December 2015, he drove himself in a Porsche 911 GT3!