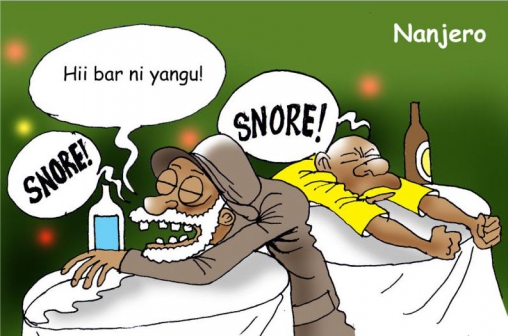 Sigmund Freud, the father of psychoanalysis, mused up theories related to dreams and dreaming. The Austrian said dreams were a form of 'repressed longing' through which the unconscious mind acts out our unacceptable thoughts and desires. Dreams are about stuff we're unable to express in social settings.
The other 'repressed longing,' according to Freud, was pegged on sex. Someone dreaming about a train entering a tunnel had phallic symbolism: the train represented penile stiffness and the tunnel, well, need we say more?
Another psychiatrist, Swiss Carl Jung, postulated that dreams not only originated from our primal needs and repressed wishes, but also allow us to "reflect on our waking selves and solve our problems or think through issues."
One discerns a lot of repressed longing, primal needs and thinking through issues by observing sots during alcohol-induced dreaming sessions at the local.
Kang'the drinks his bottle of 'Rotich' quarter with maji moto na ndimu, but half way through, the poison gets the better of his nervous system and he starts snoring like an old Bedford gassing up Nairobi's Museum Hill.
Kang'the sleep-talks, shouting: "Hii bar ni yangu!" then continues snoring like he hasn't said a thing.
Diameter, the political analyst, also sleeps and his dreaming comes to light when he curls his fists like he's met obohos at a dark alley in the Eastlands. "Please... bibi yangu... usini chape tena!" pleads Diameter before issuing a scream that can scare a gun-totting thug and is only woken up when he knocks his bottle with his ngumi in an attempt to defend himself in his dream.
Diameter rubs his eyes and wonders why Nyambu is laughing "kama poko mwisho wa mwezi" as he likes to put it.
Papa English also snoozes after swilling his standard three beers and while knocking his pony tail on the wall, begs "Don't deport me from Kenya... I have no bar bills!"
Kot-Kot's drunken dreams are interrupted through falling head first from the sina tabu stool which explains the Elastoplast on his forehead.
But the one sot whose dreams are not to be encouraged is Waka-Knife, the butcher. The warning 'when you see a toilet in a dream don't use it' is one he should take seriously in future drinking sprees at the local.
Related Topics