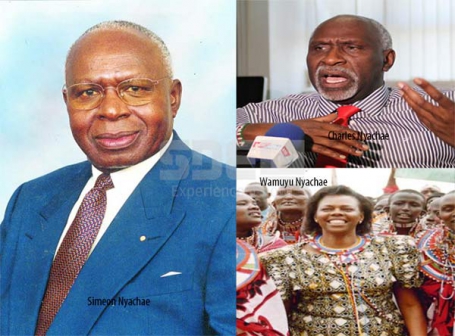 Chief Musa Nyandusi had 15 wives and over 100 children and for whom he erected his own school, besides donating land where Kisii School stands and mobilising construction of the Gusii Stadium. The powerful colonial chief for 30 years to 1964 was awarded two British medals for 'service to the Crown.'
Chief Musa Nyandusi: The first Kisii to afford cars - a Fordson and a Chevrolet Sedan in 1943 - also owned water-operated flour mills known as chitinga cha Musa; but it was hiding Mzee Jomo Kenyatta from colonial authorities in 1952 that cemented bond with the Kenyattas to date.
His fifth wife, Paulina Bosibori, a workaholic disciplinarian, staunch Adventist and cereals trader had two children: Senior Chief James Oiruria who died in 2007 and Simeon Nyachae, the 84-year-old former presidential aspirant, Agriculture and Finance Minister and Nyaribari Chache MP.
Chief Musa Nyandusi died of cancer in 1970, his wife in 2009 at 94.
Simeon Nyachae: Was Kenya's longest serving and last Chief Secretary before the post was abolished after his retirement in 1987.
Nyachae (meaning one who comes with tea as he was born when the crop was introduced in Kisii), was handed an appointment letter as Nyandarua DC at the airport upon his return from England where he studied Public Administration at Cambridge University after his father tinkered with his birth certificate that earned him a scholarship!
His forays in business were via metal drums and an oven which birthed Sansora Bakery at Nyantunango Market in 1954 to what is today the Sansora Group with interests in wheat and flour milling (Swan and Kabansora Millers), aviation, horticulture, coffee, real estate and banking, according to his thinly written 2010 bio, Walking Through Corridors of Service.
Wamuyu Nyachae: The most visible of Nyachae's several wives was hired as Mzee Kenyatta's secretary at State House after graduating from Government Secretarial College in 1969. Grace Wamuyu was transferred to Nyeri where she met Nyachae, then Central Province PC, whom the daughter of a soldier married at 19. They have four children including the well-known Wanjiku Nyachae. The director at Credit Bank left government in 1980 to run the Sansora Group.
Charles Nyachae: The eldest of Nyachae's brood is a UK-trained lawyer and chair of the Constitution Implementation Commission. His other siblings include; Joseph Nyandusi (lecturer, West Virginia University), Leon Nyandusi (architect, England), Moses Nyandusi (accountant, England). Then there is Angela, Esther, Eric, Pauline and engineer Lee Nyachae (of Lee Construction) and lawyer Michael Nyachae. Judy Nyachae and Kenneth Nyachae were appointed by President Uhuru Kenyatta to the boards of Export Processing Zone and Kenya Civil Aviation Authority, respectively, in 2015.
Related Topics