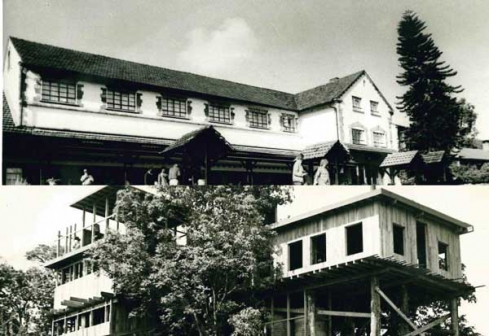 A handful of Central Kenya politicians met at the Outspan Hotel in Nyeri County last week for a two-day 'strategy' retreat.
The Outspan Hotel, meaning 'an area for travellers to rest and refresh their animals,' was founded by Major Eric Sherbrooke Walker, British military officer who also owned the Treetops Hotel built for his wife, Lady Elizabeth Mary 'Bettie,' who loved tree houses.
The Treetops was made world famous by Princess Elizabeth during her royal visit in February 1952 - the year her father, King George VI, died and the 26-year-old became Queen Elizabeth.
The Walkers hosted Princess Elizabeth and hubby, Prince Philip, but did you know it was at the Outspan Hotel where a telegram from Government House (State House Nairobi) was sent with the news that Princess Elizabeth's father had 'bit cotton' and that the royal couple had to cut short their trip to Kenya, New Zealand and Australia?
Did you also know that Lady Powell and hubby Lord Baden-Powell, founder of the Scout movement, owned the 'Paxtu' Cottage at the Outspan where Powell died in July 8, 1941? 'Closer to Nyeri, closer to bliss,' he said of the place where he's buried.
Powell's home was Pax Hill in Hampshire, England. Powell wanted his cottage named Pax II, which rhymed with the Kiswahili, 'Pax tu.'
Powell's 'Paxtu' cottage was later handed down to Jim Corbett, the world-renowned hunter and naturalist, and after whom the Corbett National Park in India is named.
Corbett was the 'bouncer' for Princess Elizabeth during her visit, and it was he who wrote the famous lines in the visitors' book at Treetops: "...a young girl climbed into a tree one day a Princess and... she climbed down a Queen - God bless her."
The Paxtu Cottage is today a gazetted national monument.
It was no fluke that Baden-Powell had a cottage in Outspan. Major Walker was Powell's private secretary when he founded the Scout movement. But more importantly, Walker escaped from a World War I German prison-after 36 attempts - using a wire cutter hidden in a ham from Baden-Powell!
Later, Major Walker smuggled boatloads of alcohol to America during the Prohibition in search of 'wedding funds' to marry Lady Bettie, an Earl's daughter, then Social Secretary at the British Embassy in America.
But killing a border guard who was messing with his million-dollar loot saw the Oxford-educated Major Walker flee to Canada before immigrating with his young bride to Kenya as he notes in his 1928 book, Confessions of a Rum-Runner, written under the pen name, James Barbican.
Major Walker bought 70 acres of Crown Land in 1926 and built the Outspan Hotel in 1928 and the Treetops in 1932. Illicit alcohol proceeds got Major Eric Walker a wife and two hotels!
The Treetops, a lookout for Kings African Rifles during Kenya's State of Emergency, was burnt by Mau Mau insurgents in 1954. Major Walker rebuilt it three years later (but not on the original Mugumo tree), as he recounts in his 1962 book, Treetops Hotel.
Walker retired and died in Spain in 1976 aged 89. Aberdare Safari Hotels acquired both properties in 1978.