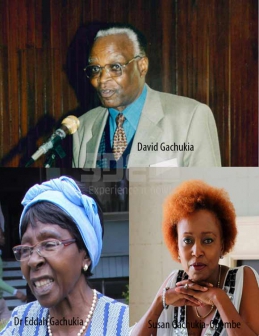 The Gachukias are known for their forays into education, diplomacy,media and music. The Riara Group of Schools (founded in 1974) and the Riara University, stand as monuments to Eddah and Daniel Gachukia's entrepreneurial tenacity and towering success story in education management.
Dr Eddah Gachukia, MBS: The career educationist and Academic Director at Riara Group of Schools was the first woman VC of Moi University. The one-tine nominated MP (1974-1983) is an alumnus of Alliance Girls, Makerere University (education), Leeds University (English) and University of Nairobi (PhD in Literature, 1973 -where she lectured until she joined UNESCO as the national adviser on population and development in 1987).
She founded FAWE (Forum for African Women Educationists) and saw it spread to 30 African countries before leaving after six years in 1998. For her contribution to "education development, gender and women rights," Kenyatta University awarded her, a Doctor of Education (Honoris Causa) in 2008 and the Dr Eddag Gachukia Science Prize at UoN stands in her honour.
Ambassador Daniel Gachukia: Kenya's longest serving Chief of Protocol met Eddah at the Nairobi Railway Station in 1953. They were both heading to Makerere University, Uganda for their diplomas in education. They married four years later. A scholarship to study French was interrupted when he became the Charge de'Affairs at the Kenyan Embassy in France, before serving as Chief of Protocol for nine years to 1974 — when he joined East Africa Industries (today Unilever) as company secretary and head of personnel. He is the CEO and Chair of Riara Group of Schools.
Alan Gachukia: The former banker is an alumnus of the University of Wisconsin (Political Science and Economics, class of 1982) and Strathmore Business School (Advanced Management). He is the Executive Director of Riara Group of Schools and board member of Nairobi Hospital.
Suzanne Gachukia-Opembe: Studied music in the US and formed the all-girl trio, Musikly Speaking, comprising Susan Matiba and Joy Mboya in 1985 and later Afro-pop band, Zannaziki (where former hubby Gido Kibukosya was a guitarist) and music production via the defunct Samawati Studios and Serenade Music. Now married to Kenyan ambassador to Ireland, Richard Opembe, Suzanne runs the music label, Sub-Sahara Ltd. Son Marcus Kibukosya (Kcous) is a member of music group, Camp Mulla.
Tony Gachukia: For a decade to 2009, Tony was a TV sports anchor and voice over artist before the graduate of business and journalism hanged his lapel mic to run Thamuru Fish Farm in Kahaine village in Murang'a - where greenhouses and science have created 'Lake Victoria-like conditions' for 15,000 fish in 14 ponds on 13 acres.
Juju Gachukia-Muthama: The alumnus of Bridgeport University, USA, (Bsc, Merchandising) and Daystar (Diploma in Education) is an interior designer and operations director at Riara Group of Schools, as well as Council Member at Riara University.