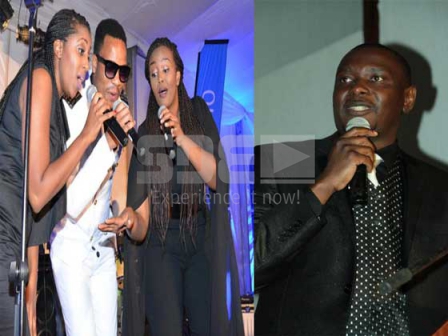 Forget their colourful outfits that border on the absurd, Elani, a contemporary Afro-fusion musical group are up in arms fighting for their rightful share of the music royalties pie, and that is not absurd.
Beneath their coolness and great vocals that serenade many a fan, members of the group are accusing Music Copyright Society of Kenya (MCSK) of cheating them out of their hard-earned money.
The trio of Wambui Ngugi, Maureen Kunga and singer-cum-lawyer Edward Chweya are now demanding an MCSK and payment of owed royalties.
In a no-holds-barred interview with The Nairobian, the group shot from the hip at MCSK. "If radio stations banks, taxi owners, bus owners, matatu owners, salons, kinyozis and event organisers remit money to MCSK, why aren't we getting paid?" posed Wambui.
MCSK who have been lately accused of misappropriation of funds by various groups, however dismissed Elani's accusations as false. MCSK, in an email to The Nairobian, said they paid broadcast royalties to Elani totalling to Sh31,000 for July 2013 to June 2014 logs.
"We approved Elani's membership on May 9, 2014 upon which we uploaded their music on our website. MCSK's legal obligation to members begins upon approval of membership," read the email.
Wambui, however, dismissed MCSK's claims, saying they only received their remittance after lodging a complaint. "If you check our email correspondence with MCSK, you will note that we indeed received money after complaining. It happened because we realised we were not breaking even after having a successful year and decided to critically check out our music revenue," Wambui explained.
But there seems to be queries that need addressing from the umbrella music group, as it emerged that Elani were further compensated for raising their voices. MCSK officials are said to have hastily paid an extra Sh300,000 to the group in lump sum. This raises even more questions.
But MCSK has defended the disbursement of the additional Sh300,000 to Elani as compensation due to inaccuracies in log sheets that had not been communicated.
"This compensation of Sh300,000 followed due process. The approval was made by the finance committee," read a statement from MCSK.
But things are far from rosy for the copyright society, whose accounts have been frozen following allegations of fraud and complaints from members. Almost a year ago, controversial gospel singer Ringtone (Alex Apoko) mobilised fellow artistes to protest over MCSK's alleged misappropriation of their royalties.
Currently, four of the MCSK accounts have been frozen.MCSK chief executive Maurice Okoth was arrested over fraud related accusations. Okoth was accused of obtaining Sh800 million by false pretence. There were even allegations that Okoth had transferred some of the money to his wife Shamilla Kiptoo's bank accounts. "This is a court matter, but we have tabled evidence against those charges on our website," he said.
During the court case in November 2015, Afro-fusion musician Achieng' Abura lauded the government, through the office of the Director of Public Prosecutions (DPP) for the "bold move taken against the MCSK leadership."
She was quoted as saying that, "It has been the bane of musicians that has left artistes suffering as a few enrich themselves to a level that is truly despicable. They are truly slippery fellas, so I hope the DPP will ensure artistes get justice. The government has finally done its part and taken to task those who collect money 'on behalf of music artistes'."