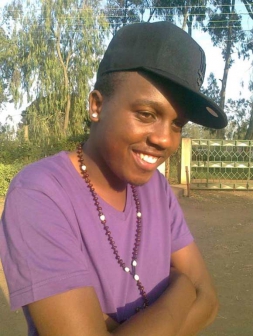 A script is the backbone of any production. Whether you are producing a movie, an advert or television series, what matters is the script. But ironically, scriptwriters live in the shadows, often forgotten, unknown even. 
A bad script inevitably leads to a bad production. It is therefore not difficult to imagine how challenging it must be to come up with a good script. A satirical one is even more of a headache, yet brillinat minds like Abel Mutua make a living out of this art.
Popular TV series like The Real Househelps of Kawangware and award-winning Hapa Kule News are his creations. The latter won Best TV Comedy during the Kalasha awards last year.
Interestingly, Mutua's claim to fame was in acting. "I got my big break after the 2007 Kenya Schools and Colleges Drama Festivals, during which I was ranked Best Performing Artiste at the nationals in Nyeri. I was spotted by scouts from Tahidi High, who then gave me a chance to audition for the show. That's when it all began. I've been in television since 2007, so that's a good eight years," he explains, adding that it was while working as an actor in Tahidi High between 2009 and 2012 that he got a shot at scriptwriting and then later, the TV series, Mother-in-Law.
Mutua has not looked back since.
"Currently, I am the script writer for The Real Househelps of Kawangware and Hapa Kule News, which I also direct. It all came about in 2013 when I was contacted together with Fred Omondi by Sarah Migwi, the CEO of Protel Studios," reveals Mutua. "She had a beautiful concept of a satirical news comedy in Sheng. We totally loved the idea and she trusted us to run with it. It's been two and a half years now," he notes.
Mutua continues: "The Real Househelps of Kawangware started as a one-off segment on Hapa Kule News. We uploaded the seven-minute clip on YouTube and guys went crazy about it. That's when KTN insisted that it be produced as a separate show.
We took up the challenge and like they say, the rest is history." Hapa Kule News has a team of four creatives: Fred Omondi (Anchor wa Power), Timothy Kimani (Njugush), Waithaka Mukuria (director) and Mutua. While Mutua writes The Real Househelps of Kawangware, Philip Karanja does the  directing.
But the journey has not been without challenges. "After the second episode of Hapa Kule News, we had no idea what we would do for the next episode. Actually, we were on the verge of quitting. But here we are, 10 seasons later. Also, The Real Househelps of Kawangware was a very new concept in Kenyan television. We weren't very sure whether Kenyans would embrace it, but God has been good to us.
For some people, especially our online viewers, it's like a drug," says Mutua noting that comedy is not for the faint-hearted. "It requires one to be astute, a keen observer of society, and a people's person. My job requires me to go to great lengths to search for these stories. For example, The Real Househelps of Kawangware has forced me to hang around househelps because they are my sources, they're the ones who feed me the stories," he says.
On why there are few Kenyans in the scriptwriting field, the husband, father, and co-owner of Phil-it Production (with Philip Karanja), says: "Scriptwriting is not easy. That's why we are very few in the country. A script determines the success of a show. If you fail as a writer, the show also fails. Unfortunately, most people shy away from such challenges, so all the work has been left to very few of us."
Mutua plans to set up a school for scriptwriters "who will assist me in achieving my dream of having a show on TV every day of the week."