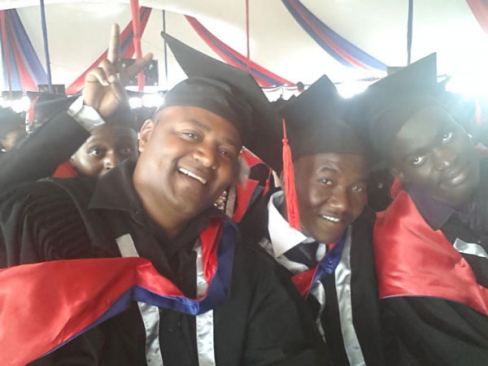 I attended my first graduation ceremony in Kenya at the Multi Media University. Reflecting on similar ceremonies in the US, similarly, there is the shared sense of pride for families and accomplishments for the graduates. There were 1,035 graduates and probably about 5,000 people cheering them on. I feared that I was going to participate in what is usually a very long ceremony – standing. I raised my hands in victory as I scored seats for myself, my mother-in-law and my seven-year-old son.
As the hours went by, the chairs filled and there was a growing depth to the number of people forced to stand. I was feeling a bit smug as my goldmine of chairs were secured, or were they? In the distance, I saw a woman squeezing her big hips down the tiny aisle. I would look at her, then look at where she was going and wondered, "Where is she going?" I kept looking for empty chairs as she slowly approached my part of the aisle.
When she arrived at my son's chair next to me, she nudged him to get up. He and I looked at each other in confusion. Then I heard my mother-in-law say under her breath, "...yes, the children must give way to their elders." Did that mean that he was going to sit on her lap? But of course – my child – my lap. He squirmed, he brushed his muddy shoes on me as well as the bum of the woman in front of us. His 25 kilos started to feel like 250 kilos and when I could no longer take it, I passed him over to his grandmother.
Names of the graduates were called one at a time and when the entire division was called, the chancellor officially conferred their degrees. They hooped and howled and chanted "Igwe! Igwe!", a Nigerian word that signals an important person in society. In the US, usually all the graduates walk across the stage, shake the president's hand and pose for a photo. Avoiding that process today we easily saved three hours.
At the end of the ceremony, the sun was shining and the air was electric, filled with picture-posing and hugs. Garlands, the kind we only use for Christmas in the US, rang the necks of the graduates. Mothers, aunties and grandmothers danced and sang accompanied by drums, obokanes and hand claps, around their VIPs.
This you would not see in America. It profoundly touched my heart. It reminded me that this achievement was not just for the individual, but also for the family, village, community and country that rallied behind them.
Denise is an Afro-soul singer and music performance coach.