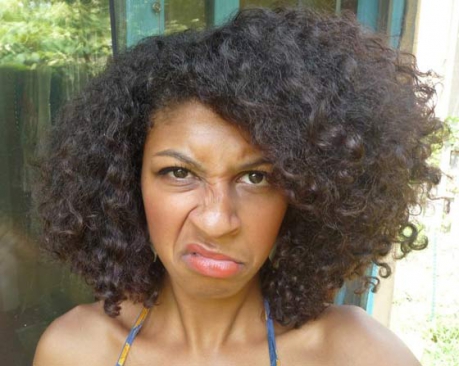 It is said that a woman's beauty is in her hair. Women go to great lengths to achieve gorgeous hair. Some perm and relax their hair. Some spruce up their hair with extensions. Others sport weaves or wigs. And then we have the pompous of them all; the 'naturalistas'. They believe that nappy is happy. I beg to differ. In my opinion, the eye-appeal of hair is in the length and volume. But that is just me.
The natural hair community in Kenya is something of a cult, what with all these natural hair gurus over-sharing routines, regimens and hair recipes on social media. I never cared much about 'team natural' until I watched a friend transition from relaxed hair to natural hair then back to relaxed hair in under a month. Someone needs to blow a hole in this natural hair Shangri-La that some people have got going on.
First of all, natural hair is not flattering to everyone. I even dare say it is ugly. Only a handful of women actually look good with kinky hair. Still, masses of unenlightened women wake up one day and decide to rock natural hairstyles only to end up adding to the ghastly parade of natural hair disasters being flaunted around.
 Secondly, contrary to what the naturalistas may want you to believe, natural hair is a pain to manage. Getting natural hair to look presentable enough to leave the house is a nightmarish chore. Washing, detangling and styling involves a gruelling regimen where you spend hours with hands over your head.
If cramping arms is not enough to deter you from going natural, maybe the financial requirements needed to maintain natural hair will. You will need an arsenal of hair products to keep your natural hair looking good. Be prepared to spend quite a bit of money on gels, oils and hair conditioners, among other products.
Many people jump into the bandwagon of natural hair without carefully considering how their new natural hair regimen will affect their lifestyles. The financial and time investment is not a luxury everyone can afford.
My friend could cope with the financial aspect but realised her busy schedule could not accommodate hours of detangling and deep conditioning. She wanted something neat and simple, like running a comb through her hair twice before rushing to work.
The bottom line is, natural hair is not for everyone. Erykah Badu always has a team of hair stylists at her beck and call. That is why her natural hair is always on point. You clearly don't, so leave natural hair to those who can manage and actually look good with natural hair.
@RoxanneKenya