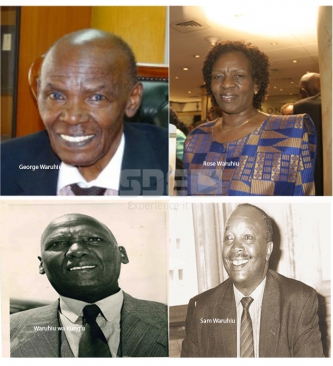 The Waruhius, give or take, were the turning point during the freedom struggle. The assassination of Senior Chief Waruhiu wa Kungu of Kiambu by Mau Mau elements in October 7, 1952 was followed by widespread panic in the colony. Sir Evelyn Baring, not even a month old as Governor, declared a State of Emergency on October 20, and with it the war of independence.
Waruhiu wa Kung'u: Negley Parson wrote of Senior Chief Waruhiu: "He was about the only man I met in Africa in whom I felt the teaching of Christianity had completely fulfilled its mission." A dapper dresser with a chauffeured car in the '50s, Senior Chief Waruhiu was held in high esteem by the colonial government. He had five wives and a distinguished brood of Waruhius as listed below.
Sam Waruhiu: He rose to national prominence when he became a lawyer for Nahashon Njenga Njoroge who was accused of murdering Tom Mboya in 1969. The alumnus of University College of Wales was not even a criminal lawyer. The first African Chair of Sigona Golf Club in 1974 was to chair many blue chip firms, including Old Mutual and Barclays Bank. He was one of the earliest students of Kabaa-Mangu High and also chaired the tribunal that enforced the Africanisation policy in commerce and industry. Sam died in 2011 aged 82.
Lois Waruhiu: Wife of Sam and among the earliest students of Alliance Girls, where she was taught geography by future hubby, Sam, then a fresh graduate from Makerere. Their marriage lasted 60 years! Lois earned a diploma in nursing in the UK and was instrumental in the formation of Nairobi's nursery school system which she ran for the city council, besides rising to Chief Nursing Officer. She ran her city pharmacy besides the family owned, Salowa Group of Companies.
George Waruhiu: Brother of Sam. He graduated from Dartmouth College (USA) and Cambridge University (UK) and was admitted to the bar in 1969. For years, he was associated with Waruhiu & Muite Advocates, now Waruhiu and Co. Advocates that has cemented its reputation in conveyancing, property and banking law for 40-plus years and still counting.
Rose Waruhiu: Wife of George. The management consultant was a nominated MP for five years to 1989 and a member of the Kenya National Committee of United World Colleges and the East African Legislative Assembly. The alumnus of Makerere (economics) has also been a member of the International Council of Women and also served in the Council of  the Jomo Kenyatta University of Agriculture and Technology.