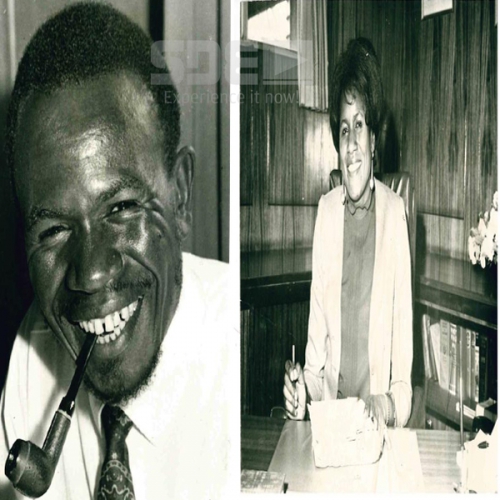 They dominate politics, education, commerce, medicine, engineering, sports and academia. Over 15 children followed in the footsteps of their father: Jeremiah Musungu Awori - the multifaceted ecclesiastical patriarch and pioneering African Canon of the Anglican Church in Kenya.
Canon Awori Street in Kakamega is named in after the man who planted over 100 churches in Western Kenya, before succumbing to heart attack at the age of 76 in 1971. Diabetes had plucked his wife Mariamu from this life seven years earlier.
Watson Omulokoli, a professor of church history at Kenyatta University, writes in the Dictionary of African Christian Biography that fewer ways of remembering someone beat "the exploits of their offspring" since "their legacy survives through an enduring dynasty" and "few families in Kenya could compare with what the larger Awori family represents and has achieved." The Awori pedigree includes:
Joshua Awori: Long-serving HR practitioner who died in 2012.
WWW Awori: Wycliffe Works Wasia was a pioneering trade unionist, editor and politician.
Rhoda Awori Ouya: Teacher, agriculturist, lay leader.
'Uncle' Moody Awori: One-time Kenya's vice president, MP, senior exec and successful businessman.
Hannington Awori: Corporate warrior nicknamed 'King of the Boardroom' died in 2010.
Winfred Odera: Career caterer and successful catering college owner.
Margaret Openda: Career educator and former matron at Siriba Teachers College.
Prof Nelson Awori: Carried out Africa's first kidney transplant at Nairobi Hospital in 1978. He died in 1986 in a car accident. The Prof Nelson Awori Centre in Upper Hill stands in his honour.
Ernest Awori: The MIT alumnus oiled his father's motorbike and tinkered with the old man's Buick as a child. He later became a notable engineer.
Aggrey Awori: He was the first Harvard student to win the long jump, hurdle and 60-yard dash simultaneously while studying economics. An Olympian for Uganda (which Jeremiah Awori loved to bits and where his sister Ellen Peres Awori was also a citizen), came third in the 2001 presidential elections.
Grace Wakhugu: Business manager, road contractor and mother to CS Prof Judi Wakhugu, an eminent geologist.
Dr Mary Okello: Kenya's first woman bank manager and founder of Makini Schools.
Christine Hayanga: a lawyer married to Justice Andrew Hayanga.
Henry Awori: One-time Kenya's Commissioner of Insurance.
Willis Awori: HR Director, ICIPE.