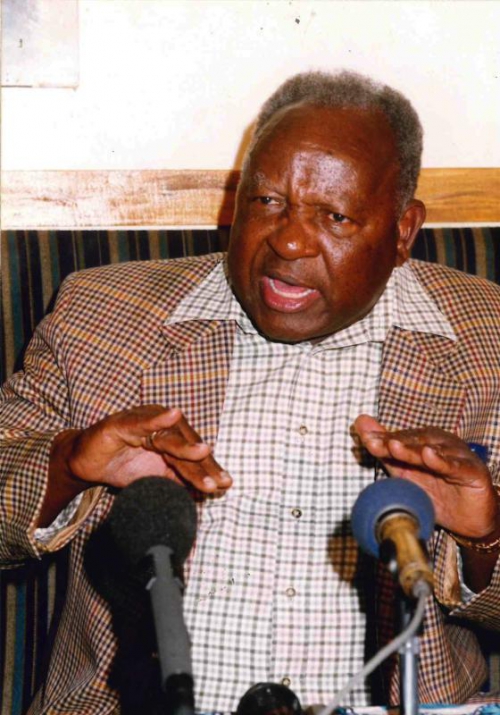 Worshippers at St Stephen Chapel in Jadini Beach, Kwale, have no place to pray. Their land and property has been reclaimed by Barclays Bank of Kenya.
The land had been sold to them by former politician Kenneth Matiba (Pictured), but was reclaimed once he was declared bankrupt.
Matiba built one of the most formidable business empires in Kenya.
He owned the Alliance Hotels chain that included Alliance Safari Beach, Alliance Jadini Beach, Alliance Africana Sea Lodge and Alliance Naro Moru Lodge. Besides Naro Moru River Lodge, the rest have been closed.
Apart from hotels, the Matiba family also owned the Hillcrest Group of Schools which were bought by Fanisi Capital, while his Sh 418 million 22 per cent stake in Carbacid Ltd was hived off to clear Sh1.8 billion debt owed to Barclays Bank. Matiba, a billionaire by asset value, was declared bankrupt.
Yet, we have wannabe millionaires 'burning' DVDs all over town, or selling clothes in mkebe ya Doom size exhibition stalls? According to the Kenya Bankruptcy Act Cap 53, bankruptcy is the inability to pay debt or discharge liabilities when they fall due. The court declares one bankrupt through petition by a debtor or creditors.
Abba Mburu simplifies it by noting that it is the inability to pay debts. "The same way Sh1,000 can quickly deplete, so can Sh1 million. Also, remember that a millionaire can get used to a certain lifestyle and there is a risk of getting into debt to keep the lifestyle. They call it golden handcuffs," she explains.
According to a financial consultant at MS Consulting Marvin Sissey, anyone can become bankrupt. He however clarifies that bankruptcy is not the same as poverty.
"It is a legal term. For some of the wealthy people who are declared bankrupt, it means that their loans were bigger than the assets, and can therefore not pay the debts fully with their assets," he notes.
Related Topics