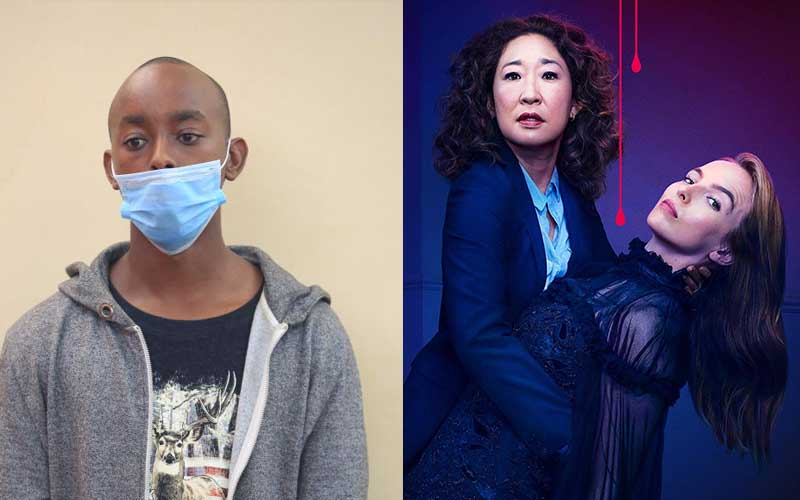 Netizens are still in shock following a recent confession by one university student Lawrence Warunge who admitted that he was inspired by a character in a British TV drama series to kill four of his family members and their farmhand in Kiambu last week. Killing Eve, the film in question, is a cat-and-mouse spy story between an MI6 investigator named Eve Polastri (played by Sandra Oh) and a glamorous assassin known as Villanelle (played by Jodie Comer). The storyline in the TV series centers a dark psychological drama about sociopathy, a feminist procedural, and a British workplace.
The series follows Eve Polastri, a British intelligence investigator tasked with capturing psychopathic assassin Villanelle. In the show, Eve's considerable talents are being ignored due to the patriarchy, but not for long! When she figures out that the talented assassin taking down big players around Europe, is clearly a woman herself, she finds herself a new job with much larger responsibilities and way higher stakes.
READ ALSO: Movie Review- The Kissing Booth 2 script could be better
Eve is triggered by the fact that she has been ignored for far too long. One thing that Warunge's confessed had been happening to him. The 22-year-old murder suspect told the police that he felt that his parents have been ignoring him and treating his other siblings better. He accused them of conspiring to speak ill against him, and according to him, that triggered him into searching the internet on the best way to commit the crime.
For the bulk of Season 1 in the now infamous TV series, Villanelle goes around killing a bunch of people, including Eve's boring, sexist former boss Frank, who turns out to be a double agent who was also working for The Twelve, the shadowy secret organization that employs Villanelle.
When Eve, Villanelle, and Bill all converge in Berlin following another one of Villanelle's extra murders, Villanelle kills Bill in a crowded club. Eve is there and can't stop it. That's when things get real, and also when Villanelle becomes scary, rather than just a manic pixie murder girl who takes out creepy and corrupt people.
In season two, Eve returns to London and is having trouble processing what she has done. Naturally, she shares nothing with her long-suffering husband Nico. Things get even more intense when Villanelle is hired by MI5 to go undercover to find out more about a billionaire psychopath named Peel, a longer and arguably more emotionally-intense mission that eventually takes Eve and Villanelle to Rome working together.
READ ALSO: Five must-watch Kenyan films
Villanelle uses Eve's feelings for her to manipulate her into storming into Peel's home and therefore blowing up the mission. In Warunge's confession, he mentioned that his girlfriend identified as Sarah Muthoni helped secure some of the weapons he used to carry out the murders. After committing the crimes, Warunge went on the run after packing his bloodied clothes in a bag.
He also carried several phones belonging to the victims and the murder weapon to Njikase village in Mai-Mahiu where he had rented board with his lover. Whether events in Killing Eve, the film in question, are enough to inspire a relatively young man to murder five people will remain a mystery!