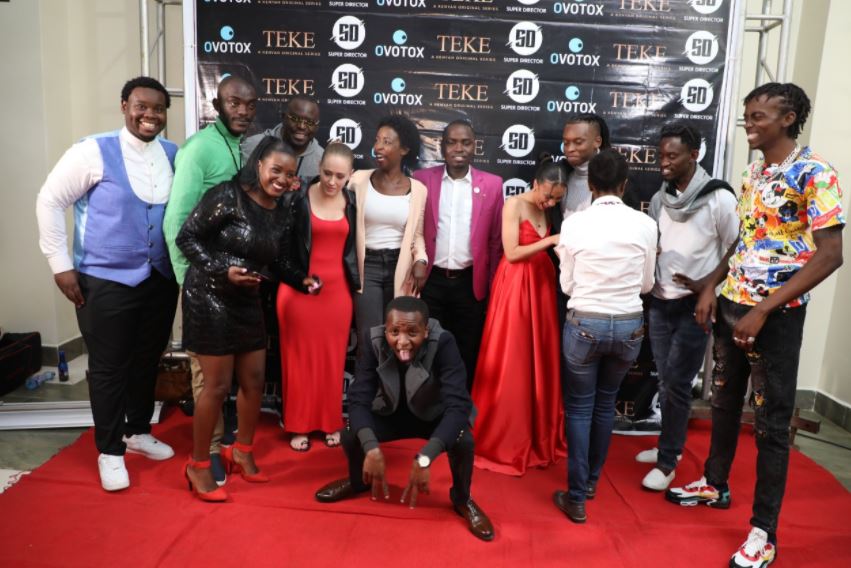 Kenyan movie lovers are in for what promises to be one of the biggest movie productions of the year. 'Teke', a locally produced crime, drama and action series is the new hot film in town. The movie, which was launched last Saturday at Signature Auditorium in Western Heights, Nairobi, has already received thousands of views online. Set at the intersection of the wealthy and the less privileged, 'Teke' explores a world of pain, love, jealousy, deceit, greed and betrayal.
It stars a street kid Brian Kabugi as Benjamin Kibonge, who is trying to survive the harsh street conditions and George Mo (Patrick Mambo), who is working so hard to control and keep Teke to himself. Teke happens to be a fictional self-autonomous place in Kenya where all the drama take place. The movie series, which is still under production by Ovotox Production Ltd, will have three seasons that will have 39 episodes, with each episode running for 40 to 45 minutes.
"Teke comes from Kiswahili slang word 'teke-teke' (faster faster). The idea behind 'Teke' is because everything is moving very fast in this setting. The series is trying to achieve an African story that has not been told to the world. Seventy per cent of young people's lives have been ruined by drugs and 'Teke' is trying to explore that. Everything is original in the story," says Erick Mdagaya, the creator of the movie, adding that the team plans to produce seven seasons.
"It's time for African stories to be told to the rest of the world. Teke is an original Kenyan story that I believe the world will love. Our target is the global market and everything that we are doing with the story is to attract a global audience and we hope that Netflix will like our idea and take it as one of their series," says Mdagaya, noting that the theme, which makes the series get a striking resemblance with the award-wining Nairobi Half Life movie, is not a borrowed idea.
ALSO READ: Being famous doesn't pay rent- Nairobi Half Life actor Joseph 'Mwas' Wairimu
The plot
He says he appreciates the producers behind Nairobi Half Life, saying while the movie was shot majorly in Nairobi, it focuses on a character who comes from the rural to start life in Nairobi as opposed to what Nairobi Half Life gives. The movie, which is produced by Vincent Lodeki and Tonnie Kamau, the latter being the executive producer and chief executive officer of Ovotox Ltd, also features prominent actors like Ainea Ojiambo, Mwajuma Belle, Eddy Peter and Scottish Madeline MacNiven among others.
Kamau says the Kenyan film industry is expected to grow exponentially by the year 2025 and Ovotox Ltd is proud to be key market leader in empowering African creatives through multimedia and artificial intelligence programmes and jobs creation. Mdagaya, who is an actor, script writer, producer and director and radio presenter, says film production in Kenya is very expensive and the government needs to do something about the strenuous tax demands that come with film production.
"There are requirements for many licences to produce a movie in Kenya, which are expensive and exhausts the budget for the production, hence leading many producers to shy away from great content and end up compromising and producing poor quality movies," remarks Mdagaya.
ALSO READ: Kenyans scoop five awards in Africa 'Oscars' ceremony
Speaking at the event as a guest, Kenya Film Classification (KFC) Chief Executive Timothy Owase said there are guidelines coming up in four months' time to re-organise the Kenyan film industry. The guidelines focus on code of practice, insurance, complaints, medical, cinema theatres and filming protocols.
"We want to ensure that everybody involved in production is able to benefit from his or her work. As a commission, we are championing that film production becomes a full-time job and not a side hustle as it has been for some time," Owase said.