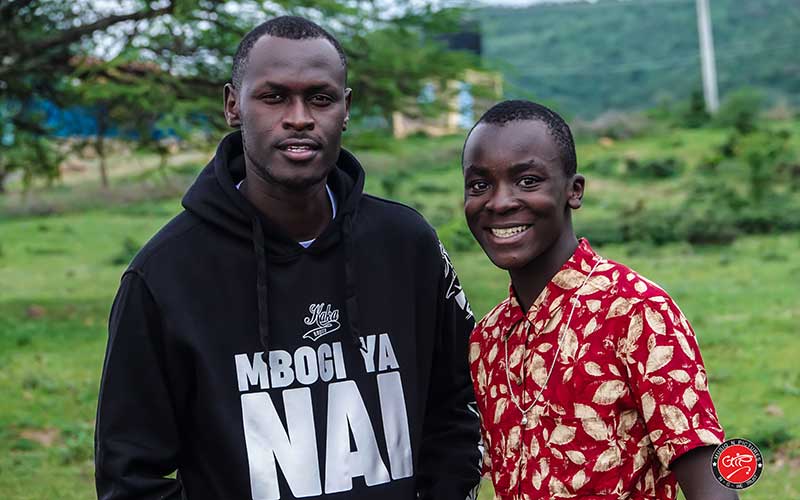 Renowned Kenyan rapper Kennedy Obima alias King Kaka has thrown his hat in the acting ring, joining a star-studded cast on his maiden stab at the silver screen in an award-winning web series, Majuto.
Majuto (regrets) tells a story about the radicalization and recruitment of the youth into Violent Extremist Organizations (VEOs).
The story revolves around Amo juxtaposed by King Kaka and Maxwell Simba Otieno who faces a series of misfortunes after his high school education. Left with little options, he is faced with the temptation of joining an extremist group to gain retribution for the misfortunes that befell him.
Amo, who before clearing high school,  craves to be a musician. However, due to crippling poverty, he is forced to seek Adili's (Keith Chuaga's) help.
He has several runs-ins with the law which instead of reforming him, harden his stance against the authorities, eventually falling into the eager hands of the terrorist recruiters.
Andili is a flashy businessman who made his fortune from exploiting youth from poor backgrounds by luring them into the trap of drugs, crime by promising nonexistent job opportunities.
He promises to pay for Amo's college education, but instead of helping him, Andili turns him into a religious fanatic.
He and other youth are recruited into a violent extremist organization and under the guise of a scholarship.
READ ALSO: International movies with a Kenyan touch
Muna, Amo's sister joins the police and gets a job with an NGO that works with the community to counsel the youth against drugs, HIV AIDS and betting. She turns to rescue her brother and other youth from ruining their future.
"The entire production was an eye opener for me. I am happy to have played a role in educating the youth against violent extremism and its consequences" King Kaka said of his experience on set.
"Apart from acting, the web series comprises of several rap hits composed and performed by King Kaka, injecting a fresh way of storytelling never done before in East Africa" said Michael Jones, the director of the web series.
The storytelling in the web series produced by Tanashati Communication's Elijah Girimani and Robert brings a riveting tale that offers solutions on how best the youth can follow the right paths to become law abiding citizens and avoid self-destruction.
The premier of Majuto web series is set to take place at iMAX Anga along Mombasa road on March 6, 2020.
"This is first of its kind rap opera production featuring King Kaka, Maxwell Simba of 'The Boy Who Harnessed The Wind' fame, Keith Chuaga, Monica Wairimu and Wakini Njoroge. The series is directed by Michael Jones and shot by Victor Ombogo" Elijah said in a statement.
Robert Ndwiga and Elijah Girimani who are the executive producers promise an action packed series that is set to disrupt the film industry.
The 13-episode series will exclusively be distributed via online platforms including Facebook, You Tube and Instagram.