Don't let his poise fool you, Martin Githinji aka Daddie Marto doesn't look like much of a clown at first sight, but you should see him in action as Jonnie in the award-winning drama series Sue na Jonnie (now on Showmax). Martin's character Jonnie hustles to make ends meet by hawking ties and boxers in the street while constantly getting harassed by city askaris.
Not the kind of life a university graduate dreams of, so when he lands a lucrative job that is meant for someone else, he doesn't think twice about taking it. I mean, how hard can it be to play someone else? To get away with it, Martin would strictly advise that you hire a capable accomplice, say a fiery beauty like Catherine Kamau (Sue) who is good at fighting your battles and keeping your secret.
Hilarious and fun as it may seem, what does it take to play a role as naïve and as complicated as Jonnie? Martin shares more with us.
1. How did you land this role of Jonnie?
I got a call to do a TV pilot by the show's director and creator Philip Karanja and Catherine Kamau (Kate). As you know, TV pilots come with little to no financial muscle, it was a gamble. I did what I could, crossed my fingers and hoped for the best. No regrets so far.
2. You seem to be having a lot of fun playing Jonnie. Are there any challenges?
Every day is a challenge on set, so fun is the only way I can play it. The naïve, cowardly and confused guy didn't just take one day to build; he was layered over a period of time. It has been tough, but the most challenging one was this particular episode where I wore a bleached face, although a bit exaggerated as is characteristic of the show. This took one hour to prepare every time we had to shoot such scenes, which took five days! My eyes would itch afterwards and get bloodshot by the end of the day. And we even had to reshoot parts of the scenes because we lost some of footage of it.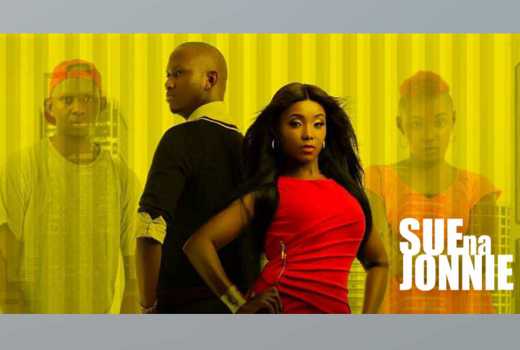 3. Are there any similarities you share with your character?
He is everything I am but somehow enhanced. I have my fears and naiveties but they just do not come to the fore. They are suppressed by the need to look confident and composed with people in my life and line of work specifically.
4. Your onscreen chemistry with Kate [Catherine], who plays Sue, is amazing. What is it like working with her?
Supercalifragilisticexpialidocious, that's the best word I can think of that explains it. It is not every day that you find a TV partner to bounce off energies with. It is indeed a blessing. And to imagine that when they cast me they were not even sure if I could pull off comedy, I am just glad they did and that Kate was my on-screen partner. I have learnt so much from her as well, her talent is raw and rich. She is unpredictable and has such a strong personality that her energy can never go unfelt in a room. She is indeed one of the best in this business; her approach to it has ensured that the business element is not lost in the background.
5. Are we ever going to see some real onscreen romance between you two?
Hahaha, no spoilers. You'll just have to keep watching Sue na Jonnie to find out.
6. If you were to play Sue for a day, what would you change?
Absolutely nothing! She is so graceful with the role, she surprises me at times. And that's how I know she is putting everything into her character; I can never see it coming.
7. Sue na Jonnie has a lot of crazy things going on, what can you say has been your craziest moment?
Batoto Ba Congo, that's when I had the bleached face on as mentioned earlier. And then there is that time I had my kidney stolen. These are episodes for the audience to look forward to.
8. You won a Kalasha Award for Best Actor for this role, how has this impacted your role as Jonnie and your career as an actor?
Oh, the glorious Kalasha moment! The award was something to say "Well done. You are on the right track. Keep up the good work!", and that is exactly what I intend to continue doing. We work in a vanity industry and nothing is as gratifying as getting that pat on the back. These awards reaffirm our skills and we have to keep on working and entertaining the audience.
9. Do you ever watch the show with your wife? What does she think about your character?
Yes, I do, and she thinks I am very stupid, in a good way. She also thinks that the entire show is amazing, a cut above the rest in the country, a career defining point in my life, and knowing how objective she is, I believe her.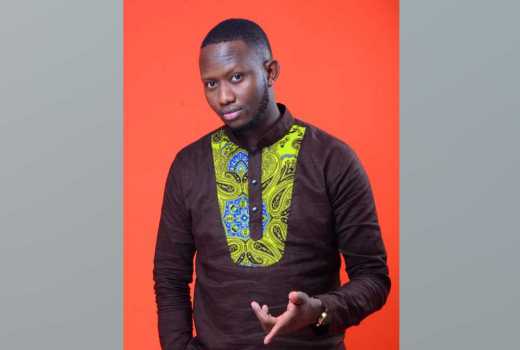 10. What goes through your mind when you watch yourself play Jonnie?
What is wrong with this guy?! How can he be so naïve and stupid? He is hilarious though, I see why people would find him endearing. Though at times I cringe thinking I could have done that better. I guess I am my biggest critic.
11. You also previously had a role in XYZ, voicing Francis Muthaura, Gitobu Imanyara and Mwaniki the Hawker. That must have been tough, voicing three characters. How did you do it?
Every character is channeled differently. One I would voice while standing on one foot, another voice while upside down, and another voice while running … Jokes aside, it was a challenge, but you have to find the character within you and let them speak out. The voice is just one element of the character. You have to reimagine them within you before they come out.
12. When you are not acting you are also a director. What TV shows or movies have you directed?
I started training as a director on the show Machachari, and then got my first directing gig on the TV series Pendo. After that, I directed two short films, Uyu Ni Mwariguo which won a Kalasha for Best Short Film 2017 and Happy Anniversary which won a Riverwood Academy Award for Best Director in 2016. I also directed Maisha Magic East's movie Mzia Mazi and currently working on Auntie Boss (now streaming on Showmax).
You can also see Martin as Sarah Hassan's husband David in How to Find a Husband, also available to stream on Showmax. Watch now »
13. What opportunities do you think Showmax offers to actors like you and to the Kenyan film and TV industry in general?
The challenge in Kenya with content had always been distribution. The digital age comes with options like Showmax that offer solutions to this challenge. I long for the days when we'll have Showmax Original shows that can be consumed by the entire world, not just in Africa. We have individuals in the diaspora who crave content from back home and if this platform can get to them then we have a ready audience willing to invest a lot more to see the Kenyan and African TV and film industry grow.
Don't have Showmax yet? Start my free trial HERE»