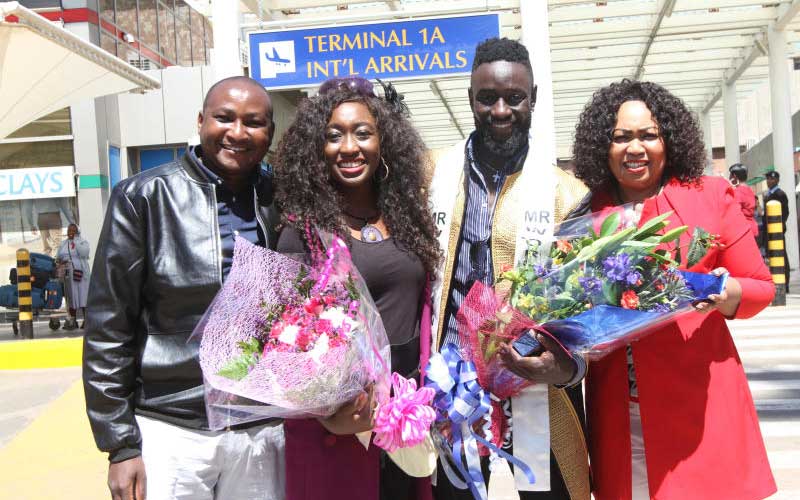 Mr World Kenya Robert Budi jetted back from Manilla, Philippines, yesterday morning after an impressive show at the just-concluded Mr World finals. Budi emerged second in Africa, narrowly losing to South Africa's Fezile Mkhize who is the 2019 Mr World Africa.
Budi clocked the best time in the extreme challenge category. Throughout the contest, he emerged top six in most of the categories. And in the finals, he was named in the top 20. Philippines' leading blogger Alvans Sebetoro was shocked that Budi did not emerge top six worldwide. Sebetoro had predicted that Budi would be in the top three worldwide.
"I am very proud of representing Kenya at the world's finals and for the support I got from our franchise office headed by Terry Mungai of Ashley's said Budi upon his arrival.
Accompanied by Ashley Mungai (Terry's daughter) from the Philippines, Budi was warmly received at the Jomo Kenyatta International Airport Nairobi by Miss World Kenya Franchise holder and CEO Terry Mungai, Sammy Kinyua, Jessy Nyambura and his family.
"We are happy with our representative at the Mr World 2019 finals, he did his best and we will continue giving the necessary and best support to our team," said Terry Mungai.
After winning in the best-dressed costume category, Budi's Maasai regalia were sold to the highest bidder at $40,000. It was bought by some wealthy Filipino. Proceeds from the sale go towards supporting homeless children worldwide.
Tuloy Foundation, based in the Philippines, benefited from the cash raised. Budi was also accompanied by Mr South Sudan Deng Dunga, a student at the Kenya Methodist University.