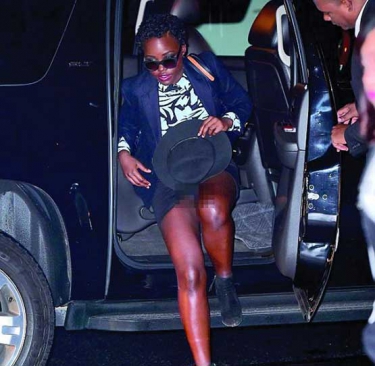 Lupita Nyong'o's black mini-skirt was so short she flashed her panties while exiting her car in Manhattan last Thursday evening. The 32-year-old Oscar winner - wearing sunglasses at night - paired her mini with a patterned top beneath a navy blazer and high-heeled booties.
It was the first time the Non-Stop actress emerged since she was rumoured to be an 'ice princess' alienating her Eclipsed castmates behind the scenes with diva antics.
Earlier on Thursday, Lupita shared a first day of rehearsal TBT of the cast with an inspirational Bruce Lee quote describing how 'love is like a friendship caught on fire.' Nyong'o plays the unnamed fourth wife of a Liberian warlord in the Broadway-bound drama, but an insider claimed to MailOnline that she won't speak to anyone unless onstage and declined all of her cast's lunch invitations.
The source also said Saycon Sengbloh - who played Helena - "was so fed up with the backstage tension," she left the show on Monday and was replaced by Stacey Sargeant. "I'm off to a new adventure but will see you all very, very soon!" But according to Deadline, the 38-year-old actress left so she could begin shooting the film Double Play this month in Curacao
According to Playbill, Lupita, Stacey, Pascale Armand, Akosua Busia, and Zainab Jah will all begin previews for their 17-week Broadway run on February 23. Tickets are not yet on sale for the Liberian drama - penned by The Walking Dead's Danai Gurira - which opens March 6 and runs through June 19 at the Golden Theatre.
The Mexico-born, Kenyan-raised actress admitted she was a perfectionist on CNN last week. "I pursue perfection and I delight in never achieving it," Nyong'o smiled. "But perfection is always really the goal and I think that's where the merit is in at least trying, trying to do things to a tee. But I understand, I know that I'm not perfect, and that I shouldn't necessarily get to perfection, but the pursuit of it, that's where the joy comes."
The Yale School of Drama grad will next head up two major films for Disney, Star Wars: Episode VII - The Force Awakens and The Jungle Book.
In J. J. Abrams' sci-fi flick, Lupita was motion-captured with over '168 dots' for four months to create the CGI character, Pirate Maz Kanata.
"(It was) really bizarre and lots of fun. I really enjoyed the fact that you're not governed by your physical presence in that kind of work. You can be a dragon. You can be anything,' the Lancôme spokesmodel said in the October edition of Vogue.
-Courtesy of Daily Mail