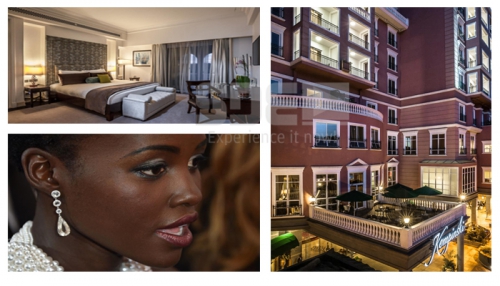 Oscar award-winning Kenyan Hollywood acting icon Lupita Nyong'o is now in Nairobi on her first official visit since she became the first Kenyan to win an Oscar in March last year, MondayBlues can authoritatively report.
The celebrated actress, who is also a model of international repute, was expected to check into the luxurious Villa Rosa Kempinski last night ahead of her busy homecoming tour that has dominated showbiz headlines in the city.
Even though the seven-star hotel management was cagey with details about her arrival and stay at the Museum Hill-located hotel, due to its  management-client confidentiality agreement, sources told MondayBlues the 12 Years a Slave star would be offered an A-list star treatment; most probably accommodated at one of the presidential suites that go for about Sh2.4 million a night.
We are part of the sponsors and we are glad to be part of her homecoming tour as she makes us proud. Hosting high-profile guests is our everyday experience. We trust she will be happy with what we offer," Villa Rosa Kempinski General Manager Manish Nambiar told MondayBlues before swiftly adding: "Beyond that, I can't comment on anything else.
The much-hyped tour that will feature activities that aim to uplift the Kenyan arts community and raise awareness on conservation, will culminate in a Thursday sold-out night gala dinner that will cost Sh10,000 per guest.
Lupita is expected at the Kenyatta International Convention Centre (KICC) where she will be having a mentorship session with young Kenyan students and artists tomorrow, the same day she will officially address the media.
"Our country's elephants are a critical piece of the heart of Kenya and we need to take action now to save their population from the threats that continue to endanger their existence," Lupita said during an earlier interview.
Her homecoming tour is being supported by a number of local brands including Safaricom, Kenya Airways, Simba Colt Motors, African Heritage, Villa Rosa Kempinski and luxury bag manufacturer Lulea.