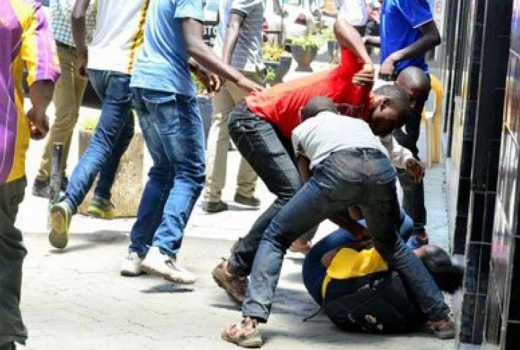 Dreaded muggers in Nairobi CBD comprise notorious gang of 20 youth
The gang goes by the moniker 'Tsunami'
Each of the gang members who attack like a pack of wild dogs
Each member must leave with a piece of the victim's cloth as proof of participation
One of the gang leaders behind the spate of muggings in the Nairobi Central Business District (CBD) is a seasoned criminal in real estate business, The Sunday Standard can reveal.
Our investigations show two top leaders of the notorious gang that comprise 20 youth and goes by the moniker 'Tsunami', are footballers who have played for two Premier League teams.
The man owns a four-storey residential block in Mlango Kubwa and a three-storey building with a bar in Huruma estate, among other property.
The thugs who have been operating in the city waylaying pedestrians with impunity, move in groups of between 10 and 15 and pounce on their unsuspecting targets. Their preferred prey being individuals walking out of banks.
Most members live in Mlango Kubwa along Juja Road, Huruma and Mathare.
In a two-day orgy of violence, the now daring gang members pounced on their victims, snatched handbags, earrings, mobile phones and ripped pockets as they went on a rampage.
According to sources, the ring leader gets his cut (Shobesh) for any mugging that happens whether he is present or not by virtue of having been the one who established the mugging ring.
The man in his mid-40s, is among the earlier group of muggers who have been operating in the CBD but has since left most action to his subjects who must hand over every loot to him before it is split only between members who present a piece of the victim's clothes.
Banking halls and ATMs
The gang leader has been on several Nairobi politicians' campaign teams, has them on speed dial and always seek their intervention whenever they are arrested by police.
A Mathare constituency politician has on several occasions bailed them out of custody until he realised his folly. One gang member recently attempted to rob an anti-mugging police officer within the CBD but was overpowered and arrested.
After robbing, the group is known to enjoy their loot along Baridi Lane in Pangani and a club along Thika road, where alcohol and women flow freely.
However, to avoid arrest when there is too much 'heat' following public outcry, the muggers flee to Githurai, Juja, Ruai and Kayole until police crackdowns end.
Following recent police crackdowns which saw four suspects killed in the CBD, the criminals who include pickpockets now operate between Kawangware and Upper hill, Langata and Thika Superhighway.
How they operate
The gang enters busy banking halls where they go to the bulk handling sections pretending to be clients but instead monitor customers who withdraw large sums of money.
They then alert their accomplices outside by giving a description of the target.
Victims are usually attacked while waiting to cross roads at pedestrian crossings or crowded pavements and alleys. The initial attack group 'disarms' and disorients the victim before the next wave of gang member rip off their clothes.
The attackers pounce on their target so fast, before pedestrians realise what is going on, they have fled.
While there are those who specialise in holding their victims around the neck (kupiga ngeta) to disable them, while the rest go for the valuables.
As proof of participation and assurance of a cut in the spoils, each of the gang members who attack like a pack of wild dogs, must leave with a piece of the victim's clothe.
Investigations have since established that some of the gang members who recently robbed head of Railways Directorate of Criminal Investigations Francis Njiru of Sh400,000 at the Railways roundabout are out on bail for another robbery with violence case.
Last year, the gang attacked and robbed Ufanisi Sacco employee identified as George of Sh999,000 at Development House off Moi Avenue shortly after he had withdrawn the money from a bank while his boss watched.
Two police officers nearby rescued the victims and arrested the suspects. They were arraigned at Milimani Law courts and they were released on bond.
Previously, the same gang attacked a Chinese man at the Tom Mboya statute and robbed him of Sh5 million. Despite intervention by police on patrol and the arrest of four muggers, they managed to escape with most of the cash.
Related Topics