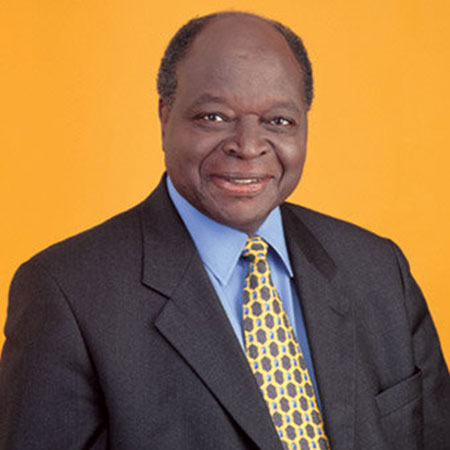 Former President Mwai Kibaki
Photo:
Courtesy
Founding Father Mzee Jomo Kenyatta, they say, loved roasted goat ribs downed with a glass of muratina (traditional honey beer). Second President Daniel Moi never touched beer but loved milk and boiled maize.
But the third and fourth Presidents – Mr Mwai Kibaki and Mr Uhuru Kenyatta — have a common denominator by way of thirst for cold beer. While Uhuru played rugby in his youth, Kibaki loved golfing until a near-fatal accident made it practically impossible for him to tee off and take the long walk in the golf course.
But a point of correction is in order; Kibaki walked away from the drinking table after the 2002 road accident because of medical reasons, and Uhuru's favorite drink isn't actually beer but whisky, especially Jameson and John Walker Green Label.
However it is in interviews with old friends that you get to know of the different, fun-loving and somehow reserved but not that generous Kibaki. Four things stand out on Mzee Kibaki's drinking days: he loved White Cap.
Despite the number, he had the capacity to remain on his seat long hours without having to leave for the washrooms; he kept a close circle of friends and patronized only a few select joints; and finally he was able to steer off controversy and calm those who the drink had literally gotten into their heads.
Though he stopped the visits, he kept a good count of his rounds which he would later pay exclusive of what others at the table had taken. Kibaki's old friends now speak with nostalgia about those days.
These men, most of who ended up in his old Democratic Party, recall treasured moments of Kibaki's social life as he traversed the country campaigning. To these men Kibaki has always been the 'economist', even when it came to paying bills.
His old joints have defied their former client's status and are still strong. Whenever he visited Othaya, Kibaki relaxed at Silent Lodge where the proprietor, Mzee Geoffrey Kagiri hosted him for drinks in ties for his friends or his political supporters although he had a lot of money. We ended up paying for his drinks." According to Muritu, Kibaki liked serene environments and never went to noisy bars. To another friend, former councilor
Nelson Rintari of Majengo ward in Embu County friend, Kibaki led a cautious and frugal social life to the point of being eccentric. Rintari who formed Democratic Party (DP) branch in Embu County in1992 describes Kibaki as a social but unique man. He says after holding a rally DP officials would head to a bar where Kibaki would take his favorite White Cap as they engaged in talks.
A former Othaya councillor who was also one of Kibaki's drinking partners on being asked who footed bills during their social outings exclaimed," You do not know Kibaki!" The man recounts how Kibaki, not known for buying drinks for friends, shocked patrons at Muthaiga Golf Club recently by paying Sh25,000 for their drinks and snacks.
Reports by James Munyeki, Joseph Muchiri, Erastus Mulwa, Nderitu Gichure and Francis Nderitu the evening before the former Vice President retired to his home about a kilometre away.
Mr Matu Wamae, former Mathira MP has fond memories of the old days when he and Kibaki would spend hours enjoying their drinks, especially in his Ngong Hills Hotel. "It was fun spending the evening with Kibaki. He was an easy-going man who had a way of warding off arguments during drinking," Wamae recalls.
An evening with Kibaki was not complete without rations of nyama choma (roast meat) and traditional irio, which the former president relished. Wamae recalls, "If one got tipsy or tried to pick an argument with Kibaki, he would just say, hivyo ndivyo ilivyo (that is the way it is) and refuse to comment further. Ordinarily, Kibaki was conservative even in a bar and rarely cracked jokes but would at times engage in animated debates about culture.
Wamae adds how Kibaki would spend hours chatting with a barman in a bar just next to Outspan Garage. Kibaki's other watering holes included Nyeri Golf Club, White Rhino, Outspan, and Elephant Castle in Karatina. Esau Kioni, another close confidant of the former president and a former State House operative recallshow Kibaki disliked drinking binges.
"Mzee liked relaxing with old friends. He disliked gossip or discussing other people during socialdrinking. When bored he would introduce a new topic. He signified his boredom by closing and opening his legs," Kioni recalled. According to another old friend, the former president's favourite pastimes were golfing and sipping his White Cap beer.
It is said he later switched to Tusker. Apparently Kibaki frequented Nyandarua where an old friend, the deputy governor, Waithaka Mwangi, recalls how he could 'forget' to orderdrinks for other people. "He only ordered for his drinks forgetting the persons sitting next to him. He attested to the fact that he would not overspend on his outings. We always liked his idea of spending what one can afford," Mwangi added.
Another ally, former Nyahururu deputy mayor John Muritu remembers how Kibaki loved visiting Thomson Falls Lodge where he sat at a favourite corner sipping beer as he chatted with acquaintances. Muritu recounts, "He only orderedfor his drinks and rarely threw par
Related Topics