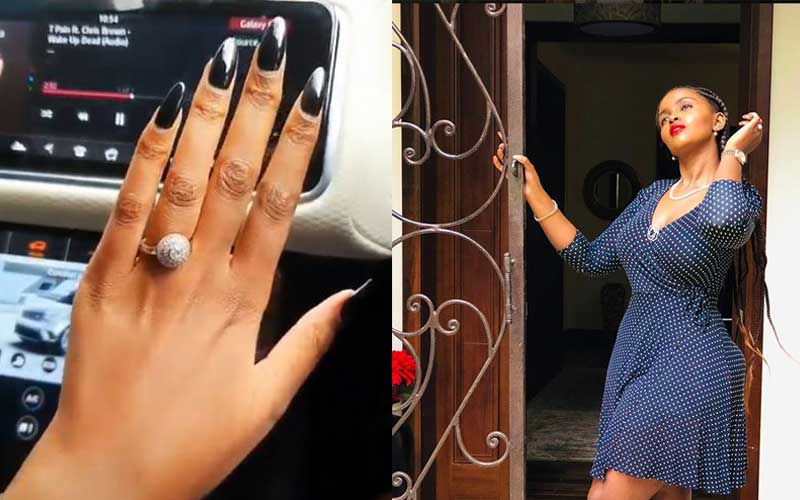 Keroche heiress Anerlisa Muigai has flaunted her wedding ring. Talking about her dislike for black nail polish, the recently married Nero Company Limited CEO shared a video of her exquisite ring.
"Black polish looked nice on me but I haven't had the strength to do it again. I get bad memories of last month," she wrote, referring to sister Tecra Muigai's death.
Recently speaking about dating hubby Ben Pol, Anerlisa said that the most challenging part of her relationship is having to keep up an image for her man. According to her, there's pressure to always ensure her body is fit and in good shape.
"The challenging part about dating an artist is that you have to keep your body fit all the time," she wrote.
READ ALSO: Anerlisa Muigai shares little known details about her sister Tecra
The two tied the knot in a low-key ceremony only attended by close family members and friends. Anerlisa was spotted in a beautiful olive wedding gown for the ceremony while Ben Pol, born Benard Michael Paul Mnyang'anga, donned a tuxedo.
The two have been together since 2018. They introduced each other to their respective families in Kenya and Tanzania and held a lavish engagement ceremony in Kenya. The two are said to have met after Anerlisa, who is the CEO and Founder of Nero Company contracted him for a gig. The event was for promoting the water brand in various upscale clubs in Nairobi.
READ ALSO: Anerlisa Muigai spends Sh195, 000 at salon
It was reported that their wedding plans had been put on hold following the sudden demise of Anerlisa's sister Tecra Muigai.
Anerlisa mourned her sister describing her as a fun-loving person who was always there for her
"I celebrate you today and not mourn you, you were a blessing to our lives and nobody will ever replace you nor will you ever be forgotten. Tecra was my biggest cheerleader. 10,000 comments would mean nothing if she didn't give hers. God rest you in peace," wrote Anerlisa.