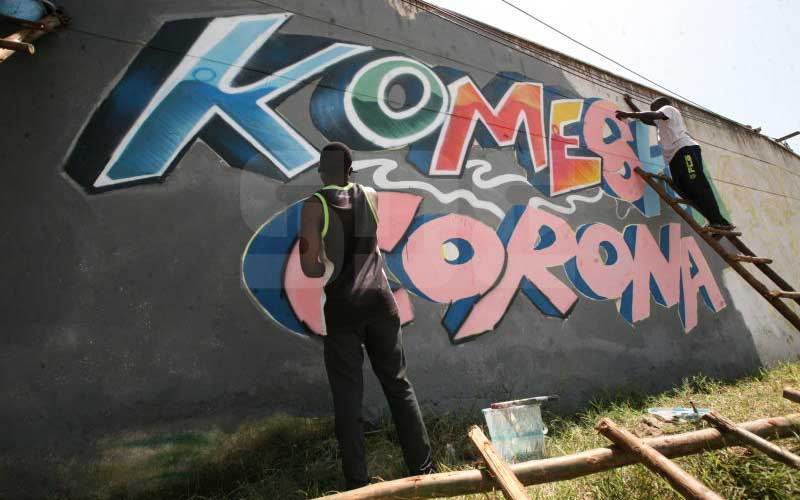 Wearing paint-dotted t-shirts and trousers, and with cans of paints and brushes in hand, Hanington Okello, 24, Steve Owiti, 29, and Cornel Oduor, have become common figures in Kisumu slums as they sensitise residents on Covid-19.
After failing to get jobs in their areas of training, the three graduates have decided to carve a niche for themselves in painting.
Having found themselves "accidentally" in art, the three are some of the beneficiaries of the government's Sh100 million released by President Uhuru Kenyatta to cushion artists against effects of the coronavirus pandemic.
When The Standard caught up with them on Sunday, they were putting final touches to a painting on the walls of Patel Flats on Kisumu-Kakamega road.
They have dedicated at least 15 days to raise awareness about measures to prevent the spread of the virus.
"When we applied for the grant, we were not sure we would get it because we were not so entrenched in the field of painting," said Okello, who is the leader of the group christened "Graffiti Africa, Kisumu".
Owiti is a civil engineering graduate from the Technical University of Kenya (TUK) and has not secured a job five years after graduating.
Pencil drawing
This pushed him to pencil drawing, a trade he had a passion for, and had been doing as an amateur.
"I had not taken drawing seriously until I met these colleagues recently and we decided to expand our scope," he said.
Oduor, on the other hand, graduated with a degree in archaeology from Maseno University last year and has not been employed.
Just like Owiti, he had a passion for drawing and meeting his colleagues has helped him nurture his talent. Okello had interest in art since his childhood, which saw him pursue a degree in education, arts and design. He graduated last year.
He said they each got Sh15,000 and other materials from the government's kitty aimed at cushioning artists against the impacts of coronavirus.
"The association is providing everything we need for the painting work, and our biggest role is to identify places where we can paint, and get permission from relevant authorities to paint," said Okello.
Some of the messages in their paintings are Komesha Corona (Stop Corona), Wash Hands, Wear Masks, Keep Distance. Their paintings carry educative messages in line the Ministry of Health guidelines on the fight against the spread of the virus.