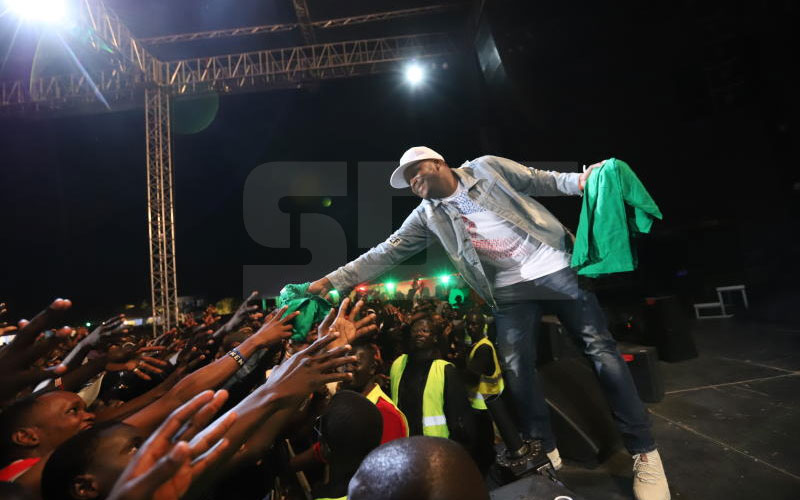 Hardly a week after his radio host position at Milele FM was declared redundant, renowned Kenyan comedian Felix Odiwuor, better known as Jalang'o seems spoilt for choice on which radio station to join.
Speaking during an episode of Bonga na Jalas, the MC explained that he got calls from various radio stations offering him a job.
Narrating the events of the day he lost his job, Jalang'o said that he started getting calls from concerned friends and fans wondering why he was not on air.
READ ALSO: Jalang'o shows off mansion, reveals side hustle
"The morning I lost my job comes and everyone is asking where our next stop is. The first radio I ever worked with was KISS 100 and all of you know how I got myself to KISS and salute to Caroline Mutuku.
"So people started calling me and I had to tell them I'm not at Milele FM anymore, one of the saddest things because I knew that I would complete my radio journey at the station. I didn't want to do this radio anymore, so at this moment I'm not happy that I left Milele FM. Do not fight for what you can earn. So I decided to go out there and earn it."
Jalan'go explained that it was after netizens got wind of his departure from Milele FM that various radio stations started reaching out to him.
"The blogs are all over calling me asking 'where are you going? Have you gotten calls'?
"I've had calls from eight radio stations, with the most recent one being from KBC.
"However I must say something, I might end up on Waiyaki Way. On Waiyaki Way there are so many radio stations. There is NRG radio, there is Radio Jambo, there is KISS 100, and there is Classic 105 so you decide.
READ ALSO: Jalang'o the man- How his father struggled to see him succeed
"But I had an amazing meeting with my friend and boss, the first person who ever gave me the first radio contract, Mr Patrick Quarcoo, and we had a long discussion. So take out NRG radio, I think I might end up back to where it all began, Radio Africa. Which radio, I still don't know," he said.
Other getting back to radio hosting, Jalang'o has also shared his plans to start his own TV station dubbed Jalang'o TV which will give an opportunity to talented individuals to showcase their various arts.