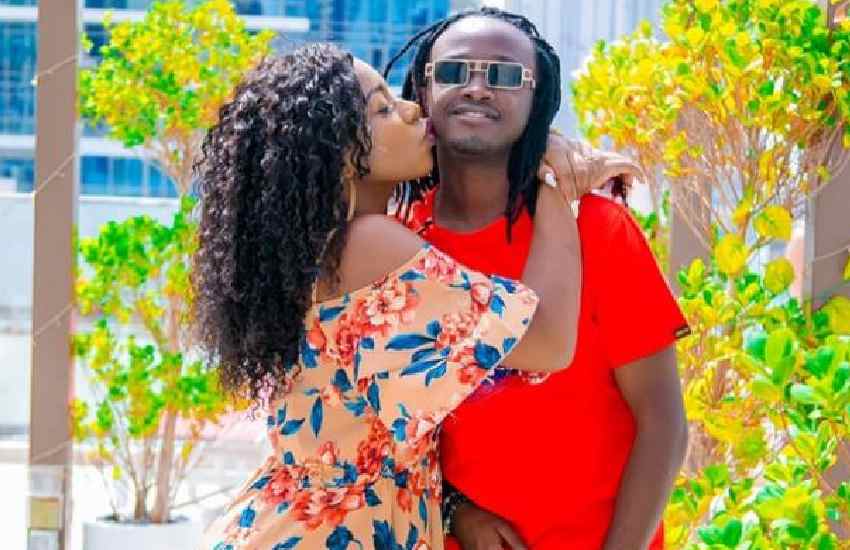 Popular gospel musician Kevin Kioko better known as Bahati has unleashed a few tips that he says has helped him maintain his marriage with wife, Diana Marua.
Speaking during an interview with Sameer Bry, Bahati called upon all Kenyan men to allow their wives to take control.
"The house belongs to the woman. By the way, advice to men outside there, if you want to survive, if you want to be as happy as I am, just accept that controlling wife and you will be very happy in your marriage," explained Bahati.
On whether the couples age difference dictates his position In their relationship, Bahati responded by asserting that he remains the head of the house despite being younger than his wife.
"The age difference is just three years. The issue doesn't disturb me but in the house, I am the man".
The couple has in the recent past faced a lot of backlash from the netizens who claim Diana overbears on her husband and controls him.
Read Also: I was called Bahati's aunt – Diana Marua on dating younger man
The claim got traction after popular Kenyan rapper Khaligraph Jones mentioned Bahati in his track Hao referring to him as Mtoto wa Diana (Diana's child) a phrase the self-styled OG said was misinterpreted.
According to the Yes Bana hitmaker, he was only addressing the issue of how trolls bully artistes on social media.
"I said Bahati akianza alikuwa mtoto wa mama sahii Twitter amegeuziwa ni mtoto wa Diana. First of all, that is not a diss and I'm seeing people who are trying to make it sound or look like Khaligraph Jones is dissing Bahati," he said.
This is, however, not the first time the couple has had to fight off social media trolls. Not too long ago Diana and Bahati participated in the viral #switch trend and sent social media into a frenzy.
Posting video dressed in his wife's clothes, Bahati wrote that Marua 'forced him to put on a dress'.
"I was forced to put on this dress just for Tik Tok. But singetoa without imitating Akothee. Msimtag sitaki shida," he captioned the video.
Unbowed by the claims, they professed their love to each other with Bahati promising to wed Marua in a huge, never-seen-before wedding ceremony.
"I'll never trade this happiness for anything. I am Blessed. After hii Rona @bahatikenya let's explore this life with a big spoon. Thank you for creating beautiful memories in my heart. Always and forever," wrote Marua.
Read Also: Diana Marua finally speaks on being previously married
In response, Bahati stated: "After this Corona, I promise you the best| biggest wedding that +254 has ever seen... Let's pray God all come back to normalcy."