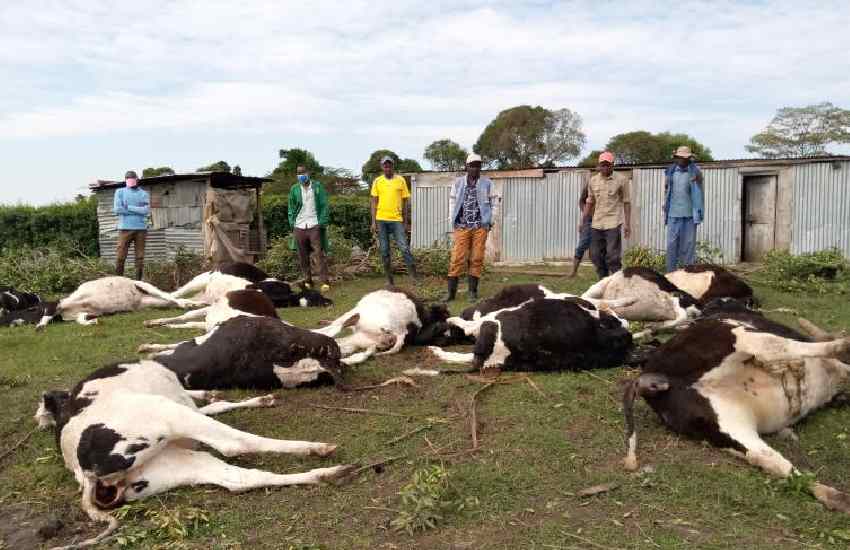 Emurua Dikirr MP Johana Ng'eno has vowed to sue the company and supplier of the poisonous livestock feeds that killed his 24 dairy cows.
The legislator lost his herd of pedigree Friesian heifers on Friday at his Kisiara farm in his constituency after the animals were fed some mineral supplements.
"I will take legal action against them for selling uncertified feeds and also for selling to me feeds that they knew are poisonous.
Read Also: Emurua-Dikir MP counts huge losses after 24 pedigree cows drop dead
They have caused me a grave devastation on my investment," the legislator told The Standard on the telephone.
Elsewhere… Man gets three years for killing in-law
A man who pleaded guilty to murdering his sister-in-law for bringing her boyfriends to his house has been sentenced to a three-year probation by a Siaya court.
Following a plea bargain, Elijah Agutu, who said he struck the woman with a piece of wood to discipline her, has also been ordered to undertake counselling on anger management.
Read Also: Wife in forced marriage accidentally kills 15 in-laws in plot to kill hubby
In her ruling, Justice Roselyne Aburili said the suspect and his wife, a sister to the deceased, had begged for leniency.
"I hereby sentence the accused to serve three years on probation for him to be counselled on anger management ... and in default he shall be brought before the court for custodial sentence," she said.
By: Harold Odhiambo