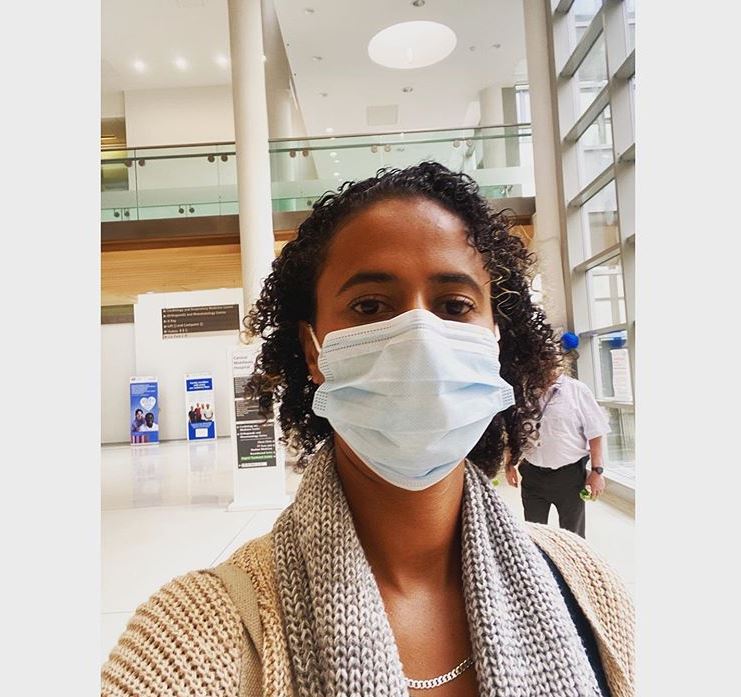 Celebrated Kenyan songstress, Habida Maloney has revealed that she has a lump in her breast that is yet to be determined whether or not it's cancerous.
Taking to Instagram, the award-winning singer who has taken a biopsy test and awaiting results confessed that she was scared of cancer since her father succumbed to the disease back in 2013.
"Today after a long two weeks of pondering "what the hell is in my body" I had a biopsy at #centralmiddlesexhospital Thank God for the very friendly staff because there are not many things that scare me but dang "I was scared", she wrote in part.
The worried Kesho hit-maker added that it was terrible to witness her father being taken down by the monster cancer is.
"Seeing my father go through cancer was terrible, it is a terrible disease! And here I am with a lump in my breast! Lump in the name of Jesus you are benign! #breastcancer #superwoman #scared," read Habida's post.
However, she was quick to apologize for the scare she had caused her fans. She revealed that she just felt like sharing what she goes through to encourage any women out there who might be battling with dreadful thoughts/scares.
"I am sorry to all those I shocked with my post! ???????????????????????????????????????????? I share to empower because I sometimes feel alone in my struggles, so I want all those women whom I now understand.... to know you're not alone, their pain, their fear, their feelings, I get it all now," she wrote.
The My Reason singer who spent at least 3 years in South Africa where she was signed with Gallo Records, further disclosed that she has not yet received results of her biopsy test which will determine whether she has cancer or not. She however promised to share her progress as much as she can.
"I don't know if I have cancer yet, as the biopsy is all I have been through at this point, but the procedure itself was enough to know this is not an easy disease to go through. I will share as much as my emotions allow me and hopefully it builds even one person. #superwomanfoundation #habidaspeaks #gothrough #yournotalone #cancerscare," she added.
Habida first hit the music scene with Sunshine, a collabo with Nameless, and in 2017 after a 3-year stint in South Africa, she tried a comeback with a new song, Sweet Love.
"This song is a different sound from the usual Habida sound because I have grown as a woman, wife and mother," she said, adding that, "I wrote Sweet Love when I was homesick. I was missing all the little things that make Kenya unique, like Swahili food. I had missed kaimati, mahamri and pilau," she said.
The RnB singer once described Kenyan artistes as the most hardworking people in the entertainment industry but noted that it is tough for female musicians.
"This is the reason why few women sing secular music. It is quite unfortunate that women in the music industry are still not yet taken seriously. Most of the time we end being paid less than what male singers earn," she said.