Kenyan rapper Natalie Florence aka Noti Flow recently refuted claims she was romantically involved with Benzema alias Alejandro of the Ochungulo Family while working on their latest track Foto Moto.
In a series of social media posts, Noti Flow explained that nothing happened between them simply because they disagreed on their sexual preferences.
"I'm sorry to burst your bubbles but no we did not. Well, I almost did, I'm a grown up, I'm human, single & h****. I feel things but good thing, I listen to my brain and not body / heart," she wrote.
READ ALSO: Ethic, Ochunglo family- Nine musicians Kenyans love despite vulgar lyrics
According to the former Nairobi Diaries actress, Benzema insisted on being intimate with her only on condition they don't use protection, a stand Noti Flow strongly disagreed with for fear of getting pregnant and contracting sexually transmitted diseases (STI's).
Noti Flow added that she and Benzema are currently not in talking terms after she turned him down.
"The n**** f**** around without protection, I wasn't about to risk getting pregnant for a deadbeat or worse still contract diseases. I'm smarter than that (and that's why someone's mad). So beat it y'all."
READ ALSO: Why I dumped my ex after a threesome- Noti Flow
Mustafa?
It seems Benzema is not the only man Noti Flow is at loggerheads with at the moment. A while back, the Kenyan rapper got back together with Colonel Mustafa after their much publicized breakup.
However, their reunion seems to have been short lived.
This was brought to light after the Kamatia singer shared a video thirsting over a fan singing along to her latest release.
"I saw him first please niachie huyu, we uko na uncle Mus(tafa)," a fan wrote.
"Who's that?" the rapper responded.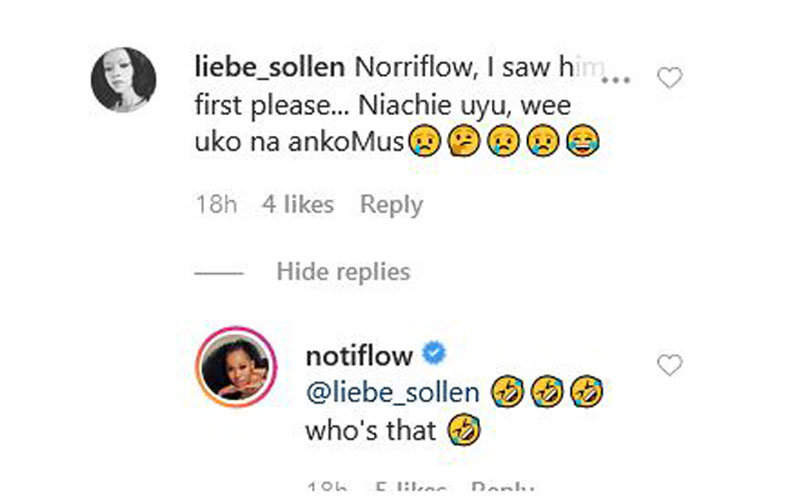 Mustafa had earlier confirmed news of their reunion saying: "In a nutshell, we are good, we are back together, we resolved our differences."
Differences
"I broke up with Mustafa a month ago because he is not a serious guy. I gave him so many chances but he still messed up. He has no goals and ambitions," Noti Flow said after their initial breakup.
READ ALSO: Noti Flow stole my Instagram account, used to bite me- Mustapha claims
Mustafa however accused Noti Flow of physical assault saying: "She became violent. She used to bite me because she knew I couldn't retaliate. I have a lot of scars as a result."