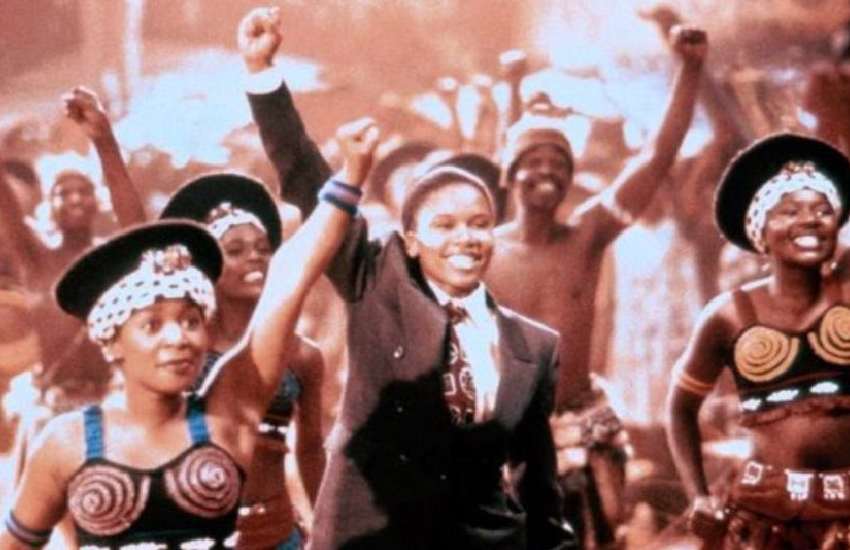 President Uhuru Kenyatta was a subject of memes ahead of his June 6, 2020, national address.
Anxious Kenyans took to social media and creatively attempted to pre-empt the head of state's address on the fate of Covid-19 restrictions, including the night curfew, across the country.
One widely-shared meme was of him juxtaposed against Ntomb'khona Dlamini's song Freedom Is Coming Tomorrow -a popular antiapartheid hit from the 1992 movie Sarafina.
In the 13 second clip, Uhuru is seen laughing off the animated chant of freedom by the movie's starSarafina, played by Durban-born legend Leleti Khumalo.
Responding to it in his address, Uhuru, amidst a laugh or two, said calls for 'freedom' were off the mark as there is continued rise in the number of Covid-19 cases in counties such as Nairobi.
"I have seen a lot of memes. 'Freedom or Independence Day' has nothing to do with it, it is about lives. We are not doing this (cessation of movements) to hurt anyone, but to protect lives. It is better to live than to party once and die," said Uhuru.
As if on cue, netizens similarly took to humour in unpacking his speech.
Freedom is not coming soon???????????????? https://t.co/l1XR5tA6li

— Anonymous kenyan???????????????? (@ETP_ke) June 6, 2020
Freedom is coming
Later in the day pic.twitter.com/DPyFSRdFT3 — AGUSTINNE ALSINNAH (@AlsinnahA) June 6, 2020
Curfew extended to 9.00pm. Me and my friends walking at 8.30pm tonight ????????????#UhuruKenyatta
Thanks wanjohi ???? pic.twitter.com/Md5iHFZgwK — Kiharu Finest™♥???????? (@kiharufinest) June 6, 2020
#UhuruKenyatta Curfew extended for another 30 days...like we said, it has ended in premium tears. pic.twitter.com/8YT2rIqalA — Mr. Wahome ???????? (@BonfaceWahome18) June 6, 2020
#UhuruKenyatta
current state of kenyans???? pic.twitter.com/rM7MfOQKwW — Njeri Mbugua (@NjeriMbugua16) June 6, 2020
Fellow kenyans the answer is NO????#UhuruKenyattapic.twitter.com/9gX3WuxhZx — Alberto Januzaj (@alberto_Januzaj) June 6, 2020
It's like State House is on a different time zone.#6thjune#UhuruKenyattapic.twitter.com/J0DwMlaRWk — Dennilson (@dennilsn) June 6, 2020
#UhuruKenyatta Schools will gradually reopen in september????????????????????

Kenyan students: pic.twitter.com/jhrh970V5V — Sir Charles of Tudor???????? (@CharlyEdwins) June 6, 2020
It will end in premium tears #UhuruKenyattapic.twitter.com/awjPb1rJ0G — mcWena (@wena_kelvin) June 6, 2020
Walevi Right now#UhuruKenyattapic.twitter.com/zOiZjvtVbU — SITUMANGI_FARE???????????????????????? (@situmangi_far) June 6, 2020
Freedom is coming tommorow #6thjune2020#UhuruKenyatta#CurfewinKenyapic.twitter.com/pmnGyQ1PRs — Javy_eric???? (@eric_javy) June 5, 2020
President Uhuru Kenyatta responds to 'Freedom is Coming' memes
Kenyans listening to that speech #UhuruKenyattapic.twitter.com/KZZ50E7Xlu — David???? (@calvince_david) June 6, 2020
We are soo sorry for the Memes ur Excellency. Tusamehe tu. Hatutarudia tena#Memes#Gachuri#UhuruKenyattapic.twitter.com/xCrtFR3rDw — Ann Sophia (@AnnSophia9) June 6, 2020