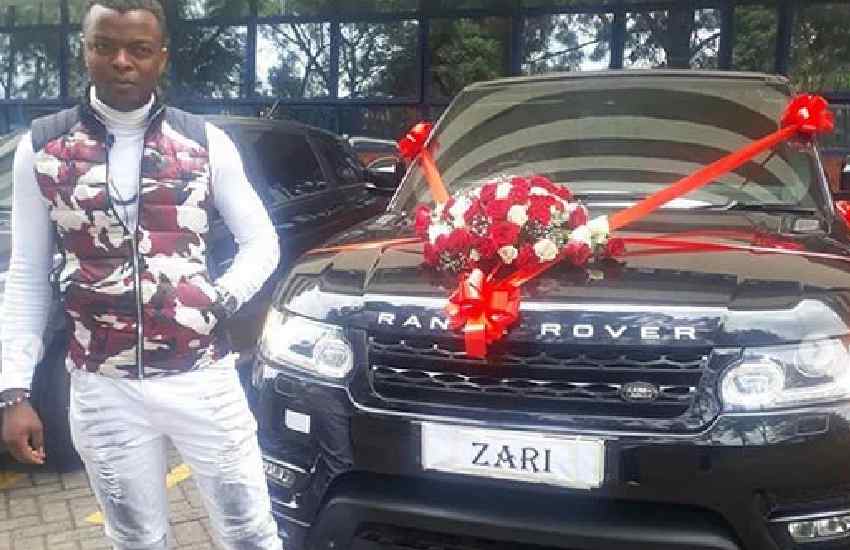 In 2018, South Africa based Ugandan socialite turned entrepreneur Zari Hassan unceremoniously parted ways with Tanzanian singer Diamond Platnumz.
The split made headlines for weeks across East Africa (EA), dousing the vine with juice as to how the fairy tale crumbled for the couple once billed as EA's Jay Z and Beyoncé.
However, sensing opportunity from the split was Kenyan singer Alex Apoko alias Ringtone who cranked up his charm as Platnumz's clock with Zari wound down and confessed love for the beauty.
Betting against himself, Ringtone in hope of sweeping the now single businesswoman, social media extraordinaire and mother of five off her feet, offered her a Range Rover Sport 2017.
This is after Zari opened up on her love for the sleek vehicle. Making a strong case for himself, the love-struck singer said the Range Rover was a token as he was ready to marry her.
When she flew into the country that same year to grace the Colour Purple concert at Uhuru Gardens in Nairobi, Ringtone seized the moment.
"You recently posted on your IG that you wanted a Range Rover OK I took note and I want to let the world know today that I have bought you a brand new Range Rover sport 2017 model. Am sorry I know you wanted white but I only managed a black one in colour. Please arrange how to pick your key? Before you leave," he wrote on Instagram.
He personally delivered it to Radio Africa offices where Zari was on media tour, but reportedly missed her as she had already left Kiss 100 where she had been hosted by Shaffie Weru.
I rushed to deliver her gift but unfortunately she had just left the radio station. Sikumnunulia gari juu huwezi afford, no, but nilinunua kama gift ya zile birthday zote nimemiss kwa maisha yake," said the Pamela hitmaker.
Zari was, however, nonetheless having none of it and blatantly turned it down, saying she has her own, newer model.
"There is someone with a 1998 model that could use this range not me. I got my own," she told a fan.
Fast forward to 2020 and Ringtone now says he never wanted to marry Zari in the first place, "Zari sikuwa nataka kumuoa. Niliona Diamond amemuacha na anacomplain ati amekuwa heart broken. Mimi kama mtumishi wa mungu nikaona nimuencourage. My first post nilisema Zari najua umeachana na Diamond ulishasema mwenyewe na kama unatafuta mwanaume hawezi kukuheartbreak ni yesu."
The pricey car, according to Ringtone, was a gesture of kindness.
"Nikamwambia mimi kama Ringtone nakupenda kabisa venye yesu anakupenda. Hio nilikuwa najaribu kumsaidia. Alikuwa amepost akisema anapenda range rover akapost ako na ya White, nikaona sababu nina nyingi na yeye ako na moja nikaona nimpe ya black."