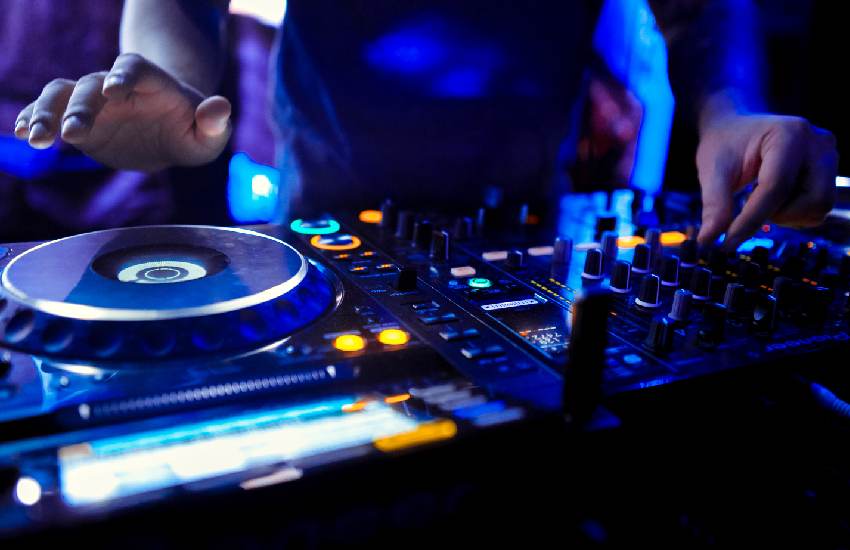 DJs affiliated to licensed business premises will not be required to pay to live-stream their music sets, this is according to a reviewed directive by the Kenya Copyright Board (KECOBO).
Setting the record straight following an uproar from the DJs over its May 27 notice, KECOBO clarified that disc-jockeys who perform at venues that have obtained a Collective Management Organization (CMO) license will not pay a cent.
Those who have, however, not paid will be required to fork out Sh10,000 annually or Sh750 per event, payable to CMOs as a tariff per gig or license.
"Recorded music in many jurisdictions is subject to rights management information monitoring technology that enables owners to account for its usage on digital platforms," read the statement from KECOBO Executive Director Edward Sigei.
Read Also: Kenya Copyrights Board explains MCSK's 'peanuts' payout
All DJs who live-stream performances containing recorded music are, however, subject to terms and conditions of the platforms they use, an aspect KECOBO reiterated, is beyond its jurisdiction and the ambit of licensing CMOs.
"It is recommended that a deejay or any other digital user wishing to exploit recorded music on digital platforms must whitelist their channels with rights holders as per terms and conditions of the platforms… Deejays are required to acquaint themselves with terms and conditions of service of the platforms that they intend to use and comply including paying for the music usage locally," added Sigei.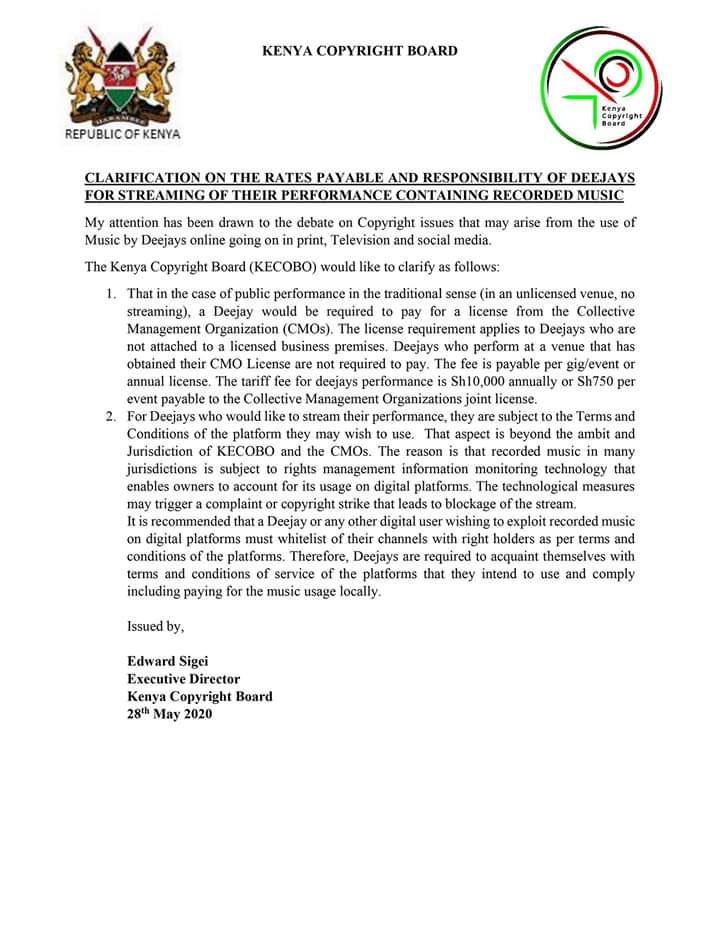 Backed by the Copyright Act Cap 130 and in response to an upsurge of live-streaming events especially by DJs who have turned to social media following the outbreak of Covid-19, KECOBO on Wednesday demanded DJs who live-stream music sets to obtain special broadcast licences.
"When a DJ creates a live stream and starts broadcasting music to the Internet, he has become a radio station. He needs licences from copyright owners or Collective Management Organisations (CMOs)," read the statement in part.
Read Also: Kenyan artists to get Sh200 million monthly in royalties
A move protested by among many DJ Joe Mfalme who questioned the timing and lamented that stakeholders were not engaged.
"As DJs, we're still trying to consult and understand this, but what we don't get is why they're bringing it up now. They haven't engaged us directly…but we're also still processing and consulting about it as DJs," said Mfalme.