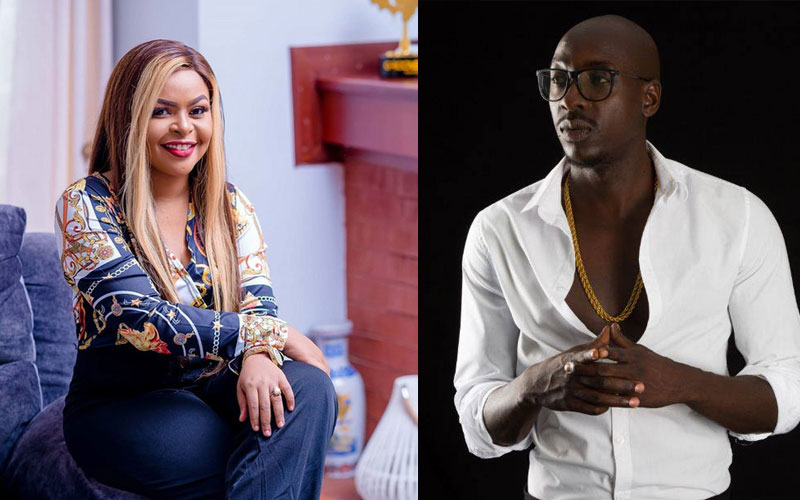 Gospel singer Linet Munyali Muraya, popularly known as Size 8 recently marked seven years after switching from secular to the gospel industry. To mark the milestone, the Mateke hitmaker documented her journey, inviting various personalities to comment.
A comment from Sauti Sol's Bien Aime Baraza however, stirred mixed reactions. According to the lead vocalist in the afro-pop band, Size 8's decision to walk away while her career in the secular world had just picked was a huge disappointment.
Talking in the documentary, the recently married singer said that Size 8 gave up a huge amount of money when she saw the light and he could not believe someone could actually do that. Bien revealed that the mother of two got saved in the middle of a tour and he has never seen anyone walk away from money the way she did.
READ ALSO: Size 8, Masterpiece spark controversy with 'Niko High bila Ndom'
"Nilikuwa disappointed hio time, because sijawahi ona mtu akiwalk away from pesa hivyo. Yaani ni kama alichukua milioni kama 50 akaweka kwa choo na akaflush… huyu dem aliokoka in the middle of a tour," (I was disappointed at that particular moment. I have never seen anyone walk away from such amount of money. It was like taking Sh50 million and flushing it down the toilet. She got saved in the middle of a tour) said Bien.
In defence, Size 8 said that the fame she got as a secular artiste drove her into depression because she had all she wanted, but was not her real self. She added that her relationships were not working and she was under too much pressure to do better every day, and she missed being loved for being Linet Munyali.
"Immediately I got what I wanted, I started slipping into depression; I cannot explain it. All that time I was a secular artiste sijawahi kunywa pombe hata siku moja. My relationships were not working, everywhere naonekana, I was glowing but was not myself. I was under pressure to be better than I used to be," she recalled.
Size 8, who also doubles up as a TV host, further revealed that she did not have genuine friends.
READ ALSO: I was so angry- Size 8 reveals pain of miscarriage
"I didn't have real friends. I started becoming a person I didn't like and I remembered that happy girl who was in State House girls and I missed that born-again girl. That Linet Munyali. I just missed being loved for Linet, not for Size 8," she added.
The songbird acknowledged that her decision shocked many people, including some family members who never understood why she actually decided to take the drastic change in 2013.
"Most people to date do not know the exact reason why I got saved, but I will explain that in the documentary. With it, people will be in a position to understand who Size 8 is," she wrote.
READ ALSO: People made jokes when I got married to Dj Mo- Size 8
Before the dust settled on the fact that no one saw the change coming, Size 8 married a popular gospel DJ Samuel Muraya alias DJ Mo. The two now are blessed with a daughter and a son.