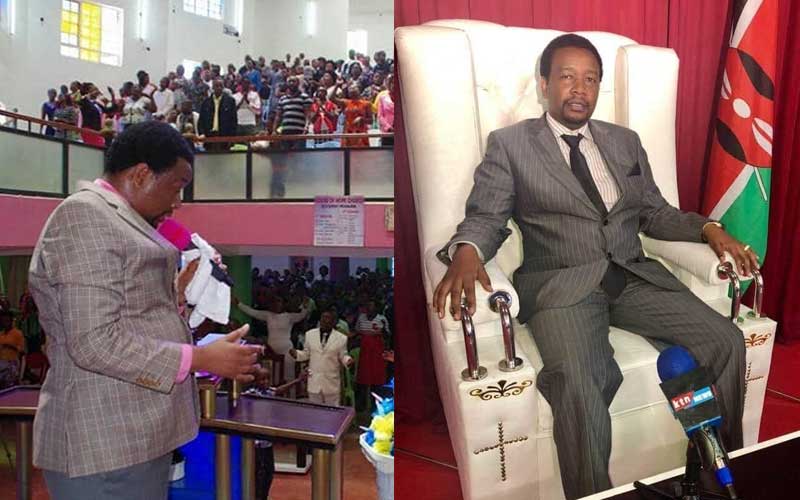 Outspoken preacher Godfrey Migwi of House of Hope church in Kayole publicly shed tears while calling out President Uhuru Kenyatta over demolitions in Ruai and Kariobangi North, Nairobi. Migwi accused President Uhuru of not intervening on behalf of the poor residents left homeless during the coronavirus pandemic.
In his passionate message, Migwi said that the evictions were not only heartless but also against basic human rights given that jobs are scarce. He further blamed authorities who approved the construction and allowed the people to settle on the land.
"I have felt this pain and I need to share it with you. I have a lot of pain. I respect Uhuru Kenyatta as a president, but while people are telling me to support the president, the Bible says everything must be done with wisdom," he said.
"People are having their homes destroyed in Ruai. Old women are having their homes demolished while President Uhuru Kenyatta is at State House on conference calls," he added.
READ ALSO: Hottest man of the cloth? Kayole based Pastor responds to wild reactions from the ladies
Call for humanity
Migwi further said that he understands the pain of his congregation and that he owns rental houses but could never evict tenants given the severe effects of COVID-19 pandemic on incomes.
"No one with a bit of humanity can evict someone right now. Who am I going to preach to? My congregation are the people whose houses you have demolished, my congregation is poor. People tell me they don't have offerings to give or food to eat. Uhuru Muigai Kenyatta, you must look out for the people of Ruai."
The demolitions that took place at around 10 pm on Friday 15 saw at least 1,500 city residents forced to spend a night out in the cold amid heavy rains. They said to be living in a disputed 3,000-acre piece of land that is meant to pave way for the expansion of the Sewerage Treatment plan in Ruai.
Two weeks ago, close to 5,000 residents in Kariobangi North estate were also left homeless after the government flattened the homes where they have lived in for 12 years to repose the grabbed Dandora Estate Waste Sewerage Plant land.