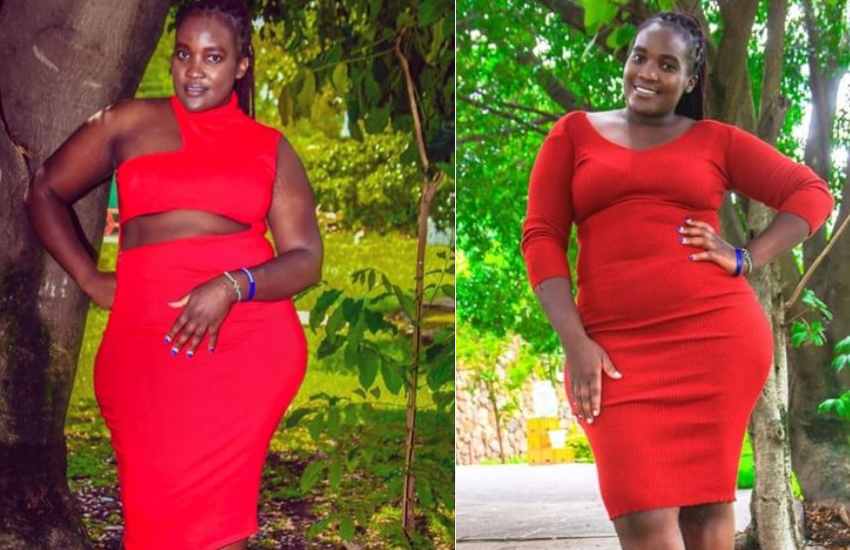 'The Real Househelps of Kawangware' actress Winnie Ruby better known as Awiti recently took on a fan after leaving a negative comment on her post.
The altercation came about after the curvy social media sensation posted a picture of herself in a red, figure-hugging dress with cutouts in all the right places with the caption "If they dint invite you, don't ask to go."
As most of her fans took to the comment section to commend her for the killer style, one of her followers, @favoured_sharon, rubbished the look.
"Unakaa vibaya gai," stated @favoured_sharon. Not holding back, Awiti came out swinging and responded, "I know I look better than you."
Read Also: Real Househelps of Kawangware actress 'Njambi' expecting second child
The rude comment prompted a section of Awiti's followers who were not equally pleased to speak up and protest against cyberbullying.
"Like seriously why don't we learn to love and support each other instead of tearing up one another sad," wrote @lifeofangie1.
"Stop projecting your insecurities on other people. You are trying to make yourself feel better by bullying others," added @tee_the_aries.
Not too long ago, media personality Anita Nderu was also forced to respond to a body-shaming comment left on her page.
"Those stretch marks na hujazaa..." read the disheartening comment in reference to the snap that captured Anita in a bikini.
Anita explained that not editing her pictures was a decision she consciously made for 2020 in an attempt to connect with her followers at a more persona level and show them she was also as human as they were.
"I chose to go edit free this year because I want everyone to feel confident about who they are. If a photo was taken on my phone, that is how I will post it. This is how I look in real life, why should I lie to you I look any other way?" She wrote.
Read Also: I was so broke after leaving TRHK- Comedian Njugush's struggles
Although offended by the mean comment, Anita assured that she would continue to post whatever she wanted in a bid to dissuade body-shaming.
"For some reason, this post really touched a nerve. It is my Instagram account though, so I shall post whatever I please. I shall continue to dissuade body shaming because that actually makes a lot of people feel bad about themselves and there is no need for that, man or woman, no one was born "perfect" and there is no need to seek that "perfection" you are lovely just the way you are," she continued.
The former Capital FM presenter urged women to cease being each other's enemies and instead be kind and supportive.
"Women really are each other's worst enemy and it is so unnecessary. The pie is so massive there needs not to be one queen. We can all win. How cool would it be if we looked after each other and treated each other like we do everything else? Can we just sisterhood the hell out of each other, please? If men can do it surely, we can do it better."