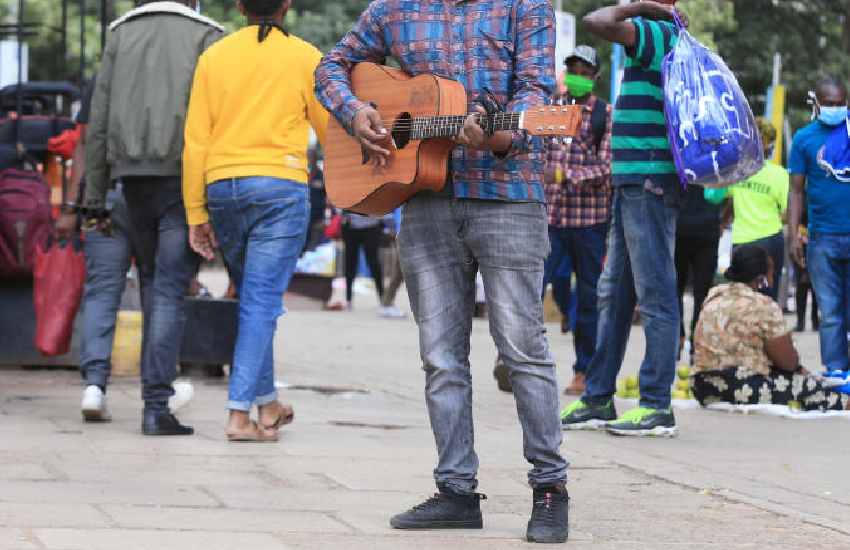 Local entertainment creatives are yet to receive the promised Sh100 million as the ministry struggles to come up with an all-inclusive list.
Early last month, President Uhuru Kenyatta directed the Ministry of Sports, Culture and Heritage to help artistes, actors and musicians sustain themselves as they continue entertaining the public through TV, radio and the internet during the period of the Covid-19 pandemic.
Yesterday, the creatives umbrella organisations - Music Copyright Society of Kenya (MCSK), Kenya Association of Music Producers (Kamp) and Performance Rights Society of Kenya (PRiSK) - issued a joint communication exonerating themselves from allegations that the funds had been forwarded to them.
They claimed that even after making a follow-up with the Ministry of Sports, Culture and Heritage, they are yet to get any feedback regarding the matter.
"On April 6, President Uhuru Kenyatta in his Address to the Nation and update on the coronavirus pandemic directed the ministry to avail (sic) Sh100 million from the Sports Fund to help cushion creatives from the economic impact of the pandemic. Since the pronouncement, we have noted that there are speculations, confusion and mixed reactions among creatives as well as the public on various media platforms regarding these funds," the statement read.
"Jointly, we wrote a letter to the Ministry of Sports, Culture and Heritage on April 20 to make follow up on the funds. As of today, we have not received any feedback," it went on.
"What I know for a fact is that the ministry should come up with a mode and criteria of disbursing the funds. Besides the creatives who are members of the three Collective Management Organisations (CMOs), other artistes such as actors are also made to benefit from the funds and coming up with a criteria or concrete data on this might take ministry time. I think artistes should be a bit patient," said Edward Sigei, who is the CEO of Kenya Copyright Board, the government arm under which the CMOs are housed.
Read Also:Will 2020 be the end of musicians' anguish?
The wait continues
We reached out to the department of culture in the ministry on phone for comment, but we were informed that the director was not in and no other official could comment on the issue.
The wait continues as individual organisations in the hard-hit entertainment sector work on modalities of cushioning artistes from Covid-19 pandemic economic pinch.
A few weeks ago, MCSK distributed Sh34 million to artistes as royalties, with PRiSK paying out Sh14.7 million to its members.
"The entertainment industry is hard-hit and to mitigate the situation for our members, we are doing everything possible to ensure that their dues are paid," said Japheth Kassanga, the MCSK chairman who is also a veteran gospel singer and music producer and director.
Local filmmakers have not been left entirely in the cold with the Kenya Film Commission (KFC) giving about Sh25 million in a project set to help them.
The empowerment programme announced last week will provide film and video-related funding in the broad categories of education and training.
KFC is also running a mobile phone film competition themed Covid-19 – Staying at Home and Social Distancing in which the winner will take home Sh200,000, with the first and second runners up pocketing Sh150,000 and Sh100,000 respectively.
"The industry needs money and if we can get funding to help grow the industry, that means we can exploit many opportunities. We are exploiting every opportunity and taking every challenge head-on as we engage around the situation of Covid-19," Timothy Owase, the KFC CEO, said.
Read Also:Musicians speak on tough times as COVID-19 dries income stream
Most film and music production firms in Kenya have halted their planned productions following the Covid-19 pandemic.
"The entertainment sector, has obviously been affected by the prevailing circumstances, not just in Kenya but globally. Most projects have been put off as it is not ideal to do major shoots," said actress and film producer Maureen Koech, popularly known for her role in Lies that Bind, that used to air on KTN.
Her Relic House Production comedy series Age of Grace had been scheduled to premiere this month but this has been pushed forward.
According to Phil Bresson, a director at Insignia Productions, which has been doing many productions for local TV stations such as Changing Times and My Two Wives that aired on KTN as well as Socialites, the pandemic has brought the film industry to a halt.
Talents at risk
"An ordinary film shoot scene has a minimum of 25 people. That's more than a crowd already, according to the regulations given on social distancing.
"This rule can't even apply in a recording because a cameraman has to be very close to the subject," said Bresson, who together with Grace Kahaki, run the production house. "Insignia has stopped shooting programmes that it had running on local channels."
He added that the company can't put film talents at risk.
Read Also: Singer Selena Gomez takes on Uhuru over unmet 2018 pledge
Besides productions getting halted, movie halls have shut down. Movie distributors like Century Cinemax and Fox Theatres who control the theatre space in major towns in Kenya are counting loses.
Some of the biggest movie releases that were expected out such as Warner Bros' The Batman and In the Heights have been cancelled.
The Many Saints of Newark, a prequel to The Sopranos, which was to be out in September, has been pushed to March next year.
Some other leading international movie firms such as Disney, Universal and Grimmfest have opted to release some of their productions through streaming platforms.