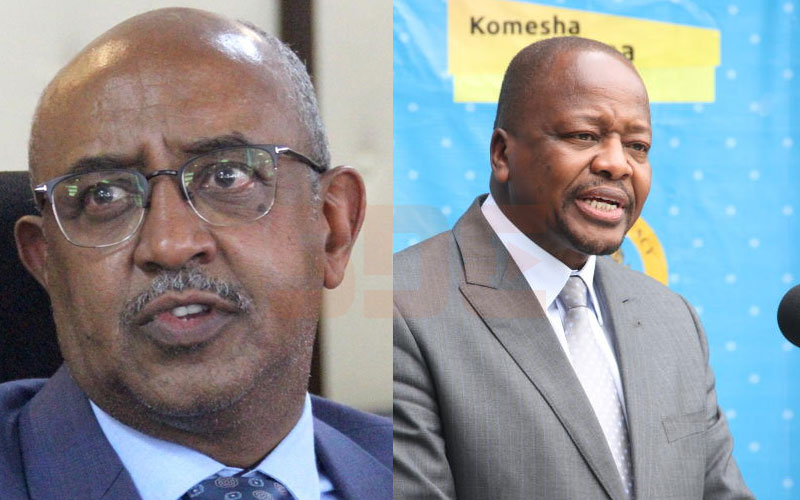 The Ministry of Health avoided responding to controversy about Sh1.3 billion from the World Bank meant to tackle COVID-19. While giving the Ministry of Health update on coronavirus yesterday, Chief Administrative Secretary Rashid Aman steered clear of the allegations that the funds were misappropriated and used majorly on non-essentials.
Dr Aman said there is a dedicated team working on clarifying the matter that has since caused an uproar among Kenyans. "We are aware that there have been reports highlighted in various media on the planned COVID-19 expenditure. Our accounting team together with our international partners will issue a detailed report soon," he said. The breakdown of funds contained in a government document states that Sh4 million was spent on tea and snacks and Sh2 million on airtime.
"As we speak, the accounting office is preparing a statement which will be issued as early as tomorrow (today)," he said.
READ ALSO: COVID-19? Kiambu family shunned by villagers after health officials bury kin
This came on a day the government announced the largest number of COVID-19 recoveries.
Aman said 15 more patients have been discharged after testing negative for the disease. This brings the total number of recoveries to 144.
"This is the largest number of discharges we have made in a single day," he said.
The number of deaths has, however, gone up to 17 after two more patients succumbed to the disease. The total number of cases now stand at 396 after 12 people tested positive.
"Seven of the cases were picked up by surveillance teams while five are from our quarantine centres," said Aman.
The government is expecting more recoveries as only two out of the 242 patients in isolation facilities across the country are in critical condition in ventilatory support.
READ ALSO: COVID-19 patient slits his throat at Mbagathi
Health Director General Patrick Amoth said the other patients have mild and moderate symptoms of the disease.
Plans are also under way to kick-start mass testing in Kawangware, Nairobi.
In the last few days, most cases have been concentrated in Nairobi and Mombasa counties. Of the 12 latest cases, seven are from Mombasa, three from Nairobi, and one each from Wajir and Kitui.
The cases in Mombasa are spread across Old Town, Bondeni, Bomani and Kidunguni while those in Nairobi were picked from Eastleigh, Fedha and Kileleshwa.