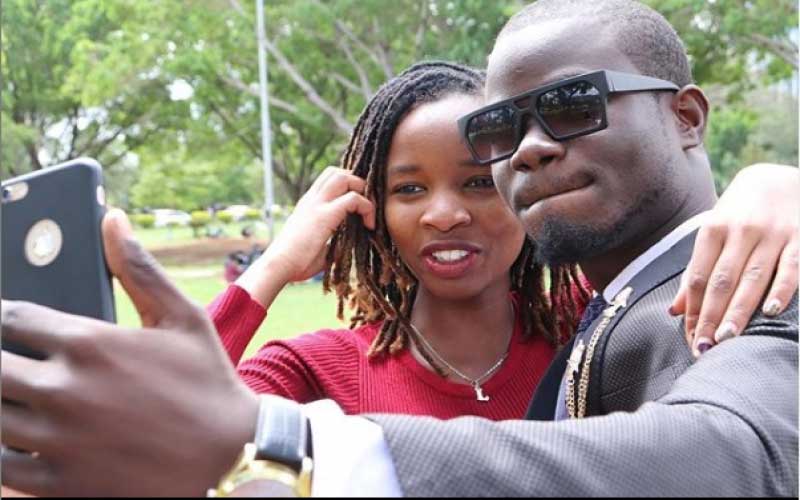 Kenyan comedian David Oyando aka Mulamwah's girlfriend Caroline Muthoni popularly known as name Carrol Sonie has opened up on how she is coping after a miscarriage. Speaking in one of their YouTube videos, Carol recalled the unfortunate incident, explaining that it has not been an easy road to recovery but is currently in a good place.
She said that she is particularly indebted to friends and family for their support.
"I remember when I told Mulamwah about the news and he was just depressed. He couldn't even control himself. The same happened to me, I broke down each and every time. Every time I saw a baby I would cry, it was that bad.
"I want to thank my friends who came to the hospital to see me, I appreciate your love. Thank you so much for wanting to know how I am doing. I appreciate it, I'm recovering and everything is back to normal," she said.
READ ALSO: Top comedians rally behind Mulamwah after shock announcement
'Back like I never left'
About five days ago, the vine star took to his Instagram to announce his departure from the comedy scene, stating that he was fed up with the negative energy on social media.
"It wasn't an easy decision to make. Am sorry guys, what was to make me happy makes me sadder, more enemies than friends, too much negativity, and trolls. I wasn't here for fame and bad blood but for fun. Shukran sana kwa the support from the fans and everyone else who made it a success. To those who always wished the worst for me I hope y'all happy now, the stage is all yours. My prayer is that no one else goes through the same again," he wrote.
Mulamwah's decision caught the attention of many Kenyans including celebrities who urged him to push on and not give up.  Coming to his aid was Kenya Film Classification Board Boss, Dr Ezekiel Mutua who offered to mentor the comedian
"I hear that twitterates are driving @mulamwah out of comedy & into depression. Bro, you are a too talented man. Pick yourself up and give me a call. I will buy you a new shirt, mentor you and make you an ambassador of clean content. The best way to deal with cyberbullies is to refuse to give up!" wrote Dr Mutua.
READ ALSO: American comedian Lil Duval under fire for mocking Stivo Simple Boy
Seems Mulamwah heeded all the advice he was given and is now back to doing what he loves most-making people laugh. Announcing his return on Instagram, Mulawah thanked everyone that stood by him and encouraged him, adding that he will not let them down.
"Back like we never left. Nasema tu asante kwa everyone that came through for m , sitaweza ku mention wote but asanteni sana.
In a candid video posted on his YouTube channel dubbed 'From me to You,' a teary Mulamwah narrated his journey as a comedian and what led to his decision to give up on his dream.