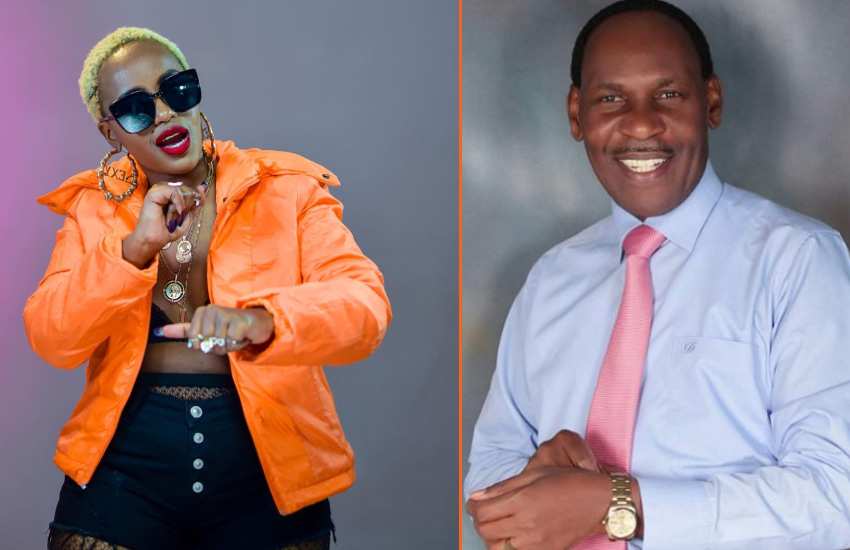 A day after the Kenya Film and Classification Board (KFCB) CEO Dr Ezekiel Mutua savagely reacted to 'Nikikupea Utawezana' - a  hit song by Femi One' and Mejja, her manager Dennis Njenga has come out in defence of the song as a creative masterpiece.
Speaking at an interview, Njenga said that while they appreciate Dr Mutua's work at KFCB, artists should, however, be allowed to creatively thrive.
"We appreciate the work Ezekiel is doing but let artists be creative. Femi One and Mejja have managed to put a smile on the faces of not only Kenyans but that of East Africans too; considering the Covid-19 situation. This is purely entertainment," noted the executive at Kaka Empire.
In a social media post, the KFCB boss had stated that artistes should be creating inspiring content to help combat Covid-19 pandemic, not promoting sexual perversion.
"The perverts who are creating such obscenity like "Nikikupea Utawezana" should be ashamed of themselves. Media houses promoting such crap too are a disgrace. Artistes should be creating inspiring content to help combat COVID-19 pandemic, not promoting sexual perversion. Our artistes must not glorify immorality in the guise of creativity. The Okonkwo Utawezana nonsense is a shallow, bizarre sexual perversion. There's absolutely nothing creative there. That lady would be ashamed to sing such crap before her mother," he wrote.
Read Also: KFCB boss Ezekiel Mutua reacts to 'Nikikupea Utawezana', issues warning
He noted that he is disappointed for he had hoped that artists would use the quarantine period to make meaningful music and give hope to the society.
"This Covid-19 crisis should have been a perfect opportunity for our artistes to prove their worth to society by creating hope, by producing meaningful content. But what do we see? Dirty, shallow and unpalatable content that's bereft of intellectual depth or inspiration. Shame!" he shared.
Responding to backlash from netizens over his sentiments, Dr Mutua reiterated that Kenyans will one day appreciate his efforts to sanitize the industry.
"Those kids who keep insulting me on social media for condemning their obscene content and immoral activities will one day thank me for raining on their parade. They will grow up and realize how lucky they are that somebody stopped them from sliding further into the abyss!" he added.
He went further to warn artistes and other industry players who flout regulations will be blacklisted by the board and their names shared with relevant government bodies to hinder further engagement with the state.
Read Also: I'd rather lose my job than promote homosexuality, says Ezekiel Mutua
Commenting on a video circulating on social media showing a minor quoting part of the song, the KFCB boss stressed that the person behind the video should be jailed.
"The person who filmed this should be jailed. See how the nonsense of "Nikikupea utawezana" is now destroying the morals of our children? Shame that grownups are quoting that idiocy and media houses are treating it as creativity. That's not creativity. It's immoral foolishness that only appeals to perverts and unless we condemn it, many innocent kids will do this thinking it's a fashionable and honourable thing!" he lamented.