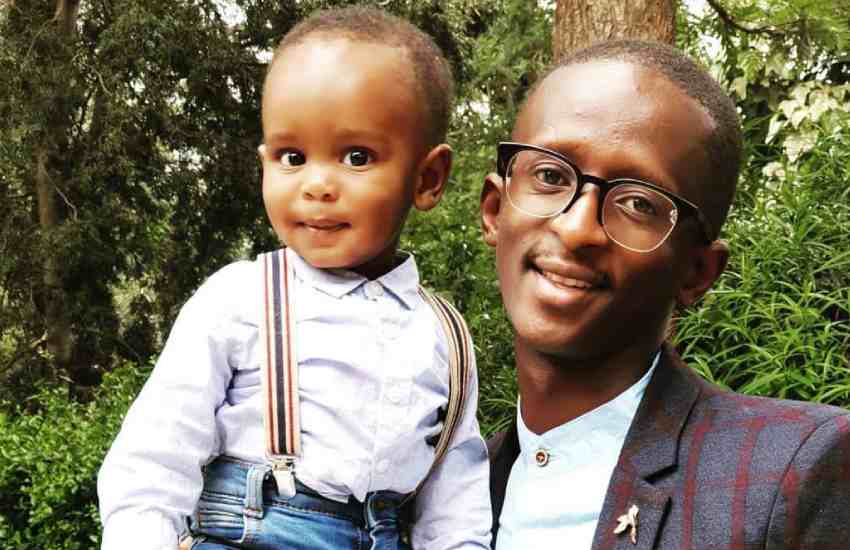 Njugush and Celestine Ndinda's adorable son Tugi is slowly building a fan base and if his witty remarks are anything to go by, he is curving his spot as a comic in the artistic family. 
Tugi's latest exploit is in a video shared by his father Njugush that has garnered over 110,000 views and seen celebrities such as Tanzanian bigshot AY, Kenya's Tallia Oyando, Abel Mutua and Kalekye Mumo among others, laugh their socks off.
This is after he nonchalantly tore into his father's appetizing plate of sukuma wiki as a delicacy of nyasi (grass). 
"Sasa majirani wakiskia tunakula nyasi bana," wrote Njugush.
Read Also:She had my ATM - Njugush on how he, Wakavinye handle their finances
Whilst he is of tender age to maybe differentiate kales from other plants drawn from the 'ubiquitous family of grasses', his insistence that the celebrated comedian was feasting on nyasi, was one for the ages.
"Iko wapi nyasi?" Posed Njugush.
"Hii," pointed out Tugi.
"Hii ni sukuma baba," highlighted the father of one.
"Nyaaasi," he fired back to laughter from the former Real Househelps of Kawangware star.
The banter that followed told it all! Check it out below:
The two seven months ago took social media by storm after they hunted down rats that he said numbered over 70 that had infested their home.
In a video, visibly fearless, Tugi flanked his father as they shared with their over 1.4 million followers how big three rats they caught were.
"Shika shika baba. Hii ni panya, shika," he is heard said.
"Ghai babe, mbona unamshikisha panya…Wacha Tugi wacha," screamed Celestine.
Read Also: I was so broke after leaving TRHK- Comedian Njugush's struggles
Celestine's last straw was when Njugush took it a notch higher and roasted the rodents.
"Mimi aki hii familia nahama aki. Panya, ata Tugi ameogopa. Aki huku kwetu kunanuka nyama choma. Majirani wanafikiria tuko na bash," says Celestine.