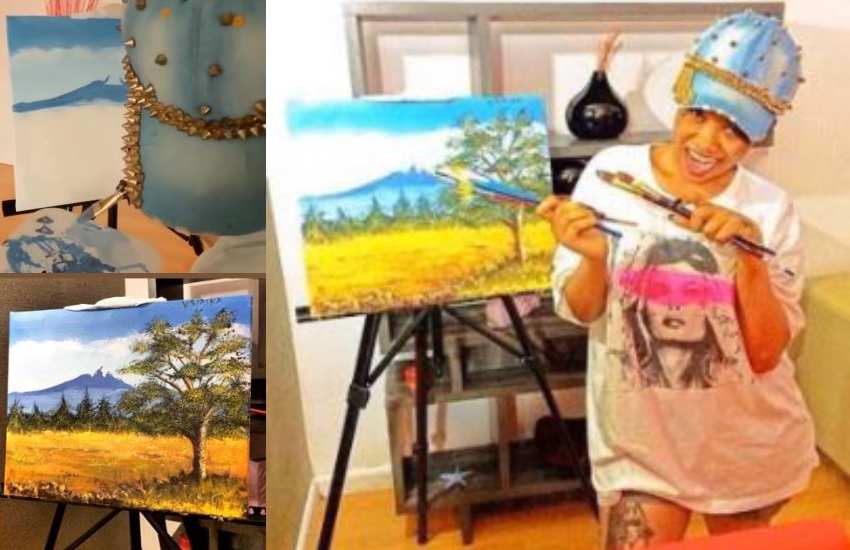 Socialite turned entrepreneur Vera Sidika has picked up art, emboldened by the new normal as the world struggles to get a grip, choked by the coronavirus pandemic.
Taking to Instagram to make the announcement, Sidika revealed that she is a painter at heart and will be rolling out artworks in due course.
Sidika stated that she is going back to what she loves most and disclosed that she neglected her talent as she expanded her portfolio.
"Sweethearts I'm going back to drawing and painting. For y'all that probably don't know, I have talent in art yup. I am an artist. I'll be creating a few art pieces soon record an entire process while at it! It's about to be fun," she wrote on her Instastories.
Read Also: Vera Sidika unveils parents for the first time after hiding them for years
She noted that it is all systems go and shared a clip of herself painting a detailed landscape mural that she claimed took her 30 minutes to create.
 "I had so much time on my hands before I got so busy and neglected my talent but I am back," she stated as she flaunted the art piece signed 'V. Sidika' on the top right corner.
She is not the only who has impressed Kenyans with a new set of skills as the impact of coronavirus continues to reverberate across the globe.
A week ago, Nairobi County Senator Johnson Sakaja took the internet by storm with his two sons after he released a rap video in a bid to raise awareness about the disease.
"We came plugged in like a charger na kuna vitu tunataka kutaja because corona has become larger than the NIC-CBA merger… for instance, try and keep some social distance, wash your hands with soap and water; check your temperature if it's getting hotter. Check your time, fika home saa moja," they rapped.
Not all has been positive though, some have taken advantage of the situation. One such case is that of a con who emailed award-winning gospel singer Kambua purporting to be working with the World Health Organization (WHO).
"The WHO is holding a conference in South Africa on 18th of April 2020 to dialogue on the way forward for African countries before the virus becomes uncontrollable. You are among the 10 influential people in Kenya chosen to attend the Conference.
Read Also: You think this is some TV show? King Kaka to Brenda Cherotich
"Flight and accommodation will be catered for. A deposit of $300 to our Kenyan Ambassador of WHO mobile no +254701117319 to secure your spot, which is refunded back on the 19th of April 2020. It went on: "Once sent, you will receive a confidential code that is strictly yours alone to be used at JKIA on the 19th of April. Any inquiries email [email protected] Secure your spot to be among the few Africans that save Africa from Covid-19."
According to the WHO, the email is fake.