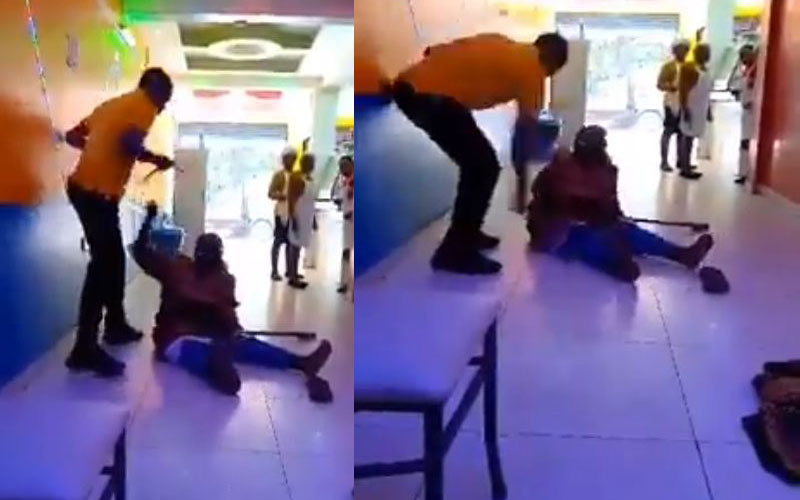 A man said to be a waiter at a restaurant in Kangundo, Machakos who was caught on tape beating a disabled woman has been arrested. The man is said to be a supervisor at Kangundo Inn restaurant and that the woman had been there for some minutes without ordering for food.
Although it is not clear when the incident took place, it was shared on social media on March 15, with netizens calling on the Directorate of Criminal Investigations (DCI) to take action.
The clip attracted the attention of Machakos Governor, Alfred Mutua, who demanded the arrest of the middle-aged man.
In a statement, the governor assured outraged Kenyans on social media that the man would be arrested. He further expressed his disgust at the people captured in the video watching the disturbing manhandling of the woman without intervening.
"I have watched with disgust, a video allegedly from a restaurant in Kangundo, of a young man assaulting a woman, and I am shocked at this violent act. The young man will have to be arrested and jailed. Others in the video who just watch and do/say nothing will also need to be disciplined," stated Mutua.
According to sources, the said man is a supervisor at the restaurant. He approached the old lady after she stayed at the restaurant for some time without ordering anything.
In the undated 30-second clip that surfaced online on March 14, a man in an orange shirt and black pants is seen standing over a woman who is sitting on the floor with a whip on his hand.
READ ALSO: Student in viral assault video threatens to commit suicide as DCI takes up matter
The man repeatedly whips the woman who seems unable to stand. A walking aid abandoned on the floor indicates that she suffers from some form of disability.
After giving her several lashes of the whip, the man then violently kicks her feet, before grabbing her by the arm and dragging her across the floor.
In the background, three women spotting white aprons and chef caps stand yet make no move to come to the aid of the woman.
As she is being dragged away, two women walk past seemingly laughing at the woman's predicament.
Governor Mutua further said that the man has been arrested and is set to be arraigned on Monday, March 16.
He advised Kenyans always to intervene, speak out, scream, and oppose such unfair acts. He cautioned the society against being passive observers as evil and inhumanity happen.
"The young man has been arrested and will be arraigned in court. As a society, we should not just sit and watch the abuse of others among us. Speak out, scream, oppose, intervene. Don't just watch. The business is not to blame for acts of unruly staff," he said.
However, with the new directive from the Judiciary amidst COVID 19 scare, the man might remain in police custody for a while.
Video:????
A staff at Inn and Out hotel, Kangundo reportedly whipping a disabled woman.#StayHome @KenyanTraffic @citizentvkenya pic.twitter.com/ObMdUwHFAJ — Benard Otieno (@HonBenard) March 15, 2020