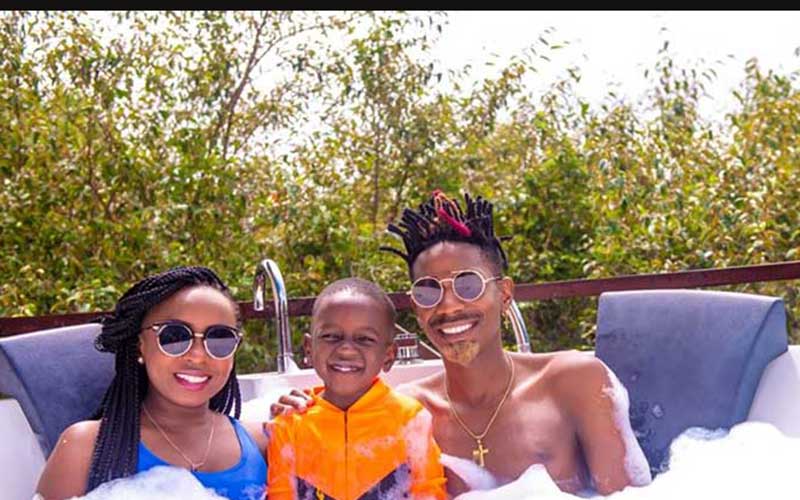 Jacque Maribe has appreciated the father of her son, renowned comedian Eric Omondi in a sweet birthday message posted on her Instagram account.
The journalist took to the popular social networking site to let the entertainer know how grateful she is to have him, even including an inside joke that proves how close the two remain.
In her post, Maribe confirmed that the famous funnyman would be spending his birthday evening with her.
"The best thing you ever gave me was Zahari, and for that I am forever grateful to you. As you celebrate your birthday (later with us tonight) we remind you that you are an important piece of the puzzle that is our life. Happy birthday Eric Omondi and I'll put up that long post alert of our life one day like you said," wrote the former news anchor.
Her sweet words were accompanied by an adorable photo of the comedian and their son cuddled together on a restaurant seat, seemingly enthralled with a phone- screen.
The two sparked reconciliation rumours after going on vacation together at the Masai Mara. A popular tours and travel company released intimate photos of the duo and their four-year-old son months ago.
The reunion had come soon after Eric announced that he had called it quits with his Italian girlfriend. Omondi and Chantal Grazioli had dated for four and a half years before the unprecedented revelation.
In a turn of events, the pair took back their break- up confirmation as Omondi insisted it had been a break all along, not a permanent break up.
"Chantal and I didn't break up in the first place if you read what I wrote and what she wrote. She was going to school and also to do some other things. So we have not broken up and we are not on a break and we are not separated,"said Eric in a November 2019 interview.
Chantal too wished the funnyman a happy birthday, sharing a snap of the couple in an affectionate embrace.
"Let's scream happy birthday to this awesome man! We have grown old together even if we have our ups and downs we always manage to fix things, thank you for always supporting me in everything I do. I am so proud of you, make sure you always stay the strong happy smart and wonderful man I know! You will always be my #redheadedmess and best friend first! Happy birthday again boo boo and to many more to come," she wrote.