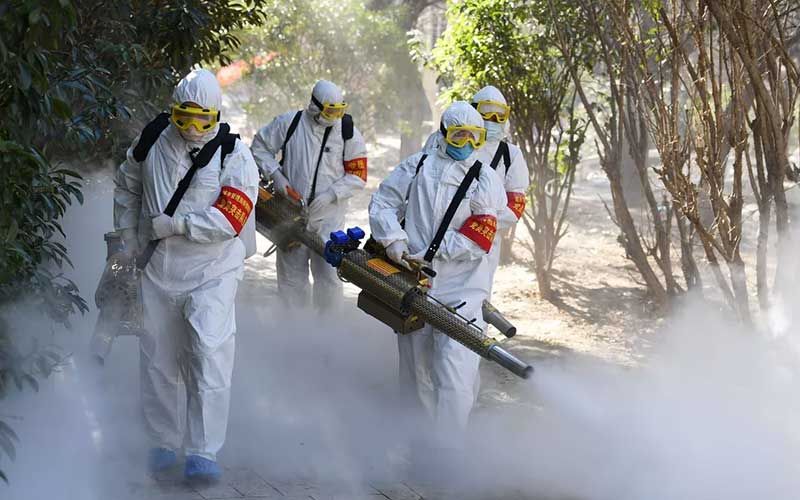 A man who died at a Nairobi hospital after exhibiting coronavirus-like symptoms was not infected, the government has said.
A statement from Government Spokesperson Colonel (Rtd) Cyrus Oguna confirmed that the man, who is said to have arrived in the country from India, did not die from the virus.
It was suspected that he either had swine flu, as there is an outbreak in India, or Covid-19.
A statement from the government spokesperson's office said that so far no case of coronavirus had been confirmed in the country.
READ ALSO: Anger as coronavirus patient 'deliberately goes bar-hopping to spread disease'
"Last evening, one suspected case (now deceased), was investigated at MP Shah but turned negative on testing for Covid-19," the statement read.
The deceased, whose identity has been concealed, was aged 56.
This is as the Centre for Disease Control and Prevention (CDC) listed the elderly and persons with existing medical conditions as those at high risk of being infected by the coronavirus (covid-19).
Individuals with heart, lung or kidney diseases, says CDC, are among those at high risk of contracting the virus.
"As people age, their immune systems change, making it harder for their body to fight off diseases and infection," says CDC in its update on Sunday.
It adds: "Many older adults are also more likely to have underlying health conditions that make it harder to cope with and recover from illness."
READ ALSO: 'Coronavirus cougher' who collapsed in London exposed as prankster
Kidney failure and pneumonia, which are common among the elderly, are some of the symptomatic diseases associated with coronavirus.
This data can be confirmed with the numbers in Italy, where 148 deaths have been reported majority being individuals aged above 65.
It could also be one of the reasons China is grappling with the virus, away from the fact that the virus originated there, as China has a rapidly ageing population, standing at over 123 million. As at yesterday, the virus had affected over 100,000 persons according to the World Health Organisation, with over 3,500 deaths.
Some 60,905 persons had also recovered from the infection.
WHO in a statement, said China and other affected countries have demonstrated that the spread of the virus can be slowed and impact reduced through the use of universally applicable actions.
Apart from equipping a 120-bed capacity at Mbagathi Hospital in Nairobi, the government has also trained 615 health workers in readiness for any eventuality.