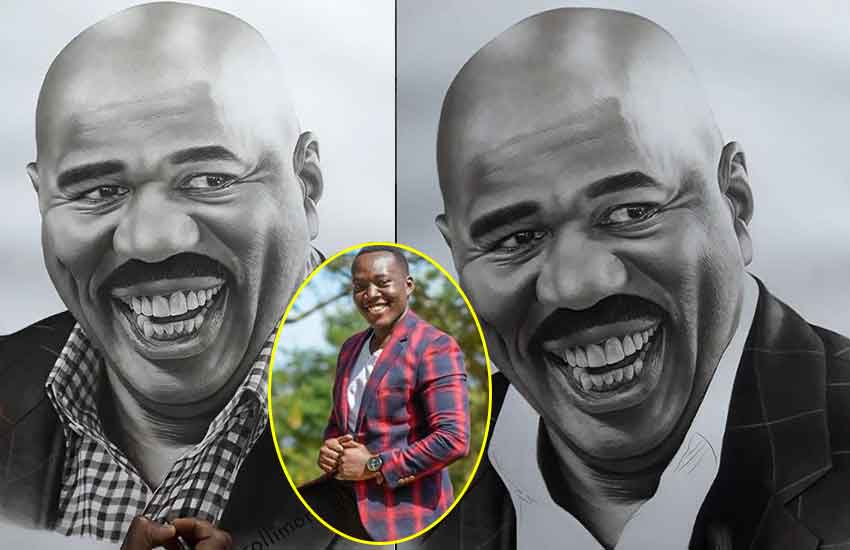 Popular US TV host, comedian and businessman Steve Harvey has responded to a viral tag of a classic artwork of him by popular Kenyan painter Collins Omondi.
According to Harvey - in a tweet, Omondi's masterpiece impression was a testament to every person's innate capacity to shine through talent.
"Everyone has a God-given gift. This is what following your gift looks like, just incredible," tweeted Harvey with two clap emojis to a plea by Omondi to Kenyans to generate enough buzz to reach the Family Feud star.
"Pencil drawing in progress of @IAmSteveHarvey by me, with love from Kenya. Help me tag him so he can see it. #steveharveypencil #JaduongArtWorks," tweeted Omondi earlier.
Omondi's plea was soon followed by a massive call to action by comedian Felix Odiwuor alias Jalang'o who called on his over 1.5 million followers to tag the West Virginia native. 
"Guys @jaduong_thinktank has done it again! Pls i just need one thousand comments TAG @iamsteveharveytv until he comments here!! Just comment with @iamsteveharveytv. Just one thousand Tags!!"
Read Also: Pastor Ng'ang'a destroys Snoop Dogg in epic rebuttal
Speaking to SDE, Omondi revealed that Harvey's team was in contact with him and were following up on the progress of the artwork considering that he was tagged in an unfinished painting.
"I am immensely overwhelmed by the response. I am grateful to Kenyans for propping up my piece to his attention. His team is in touch, I am hopeful of what will come out of it; fingers crossed," said Omondi.
Light on Kenyan talents
Steve Harvey's move comes under a month after fellow superstar Justin Bieber patted a Kenyan dance group from Kibra on the back over their creative dance to his latest song Yummy.
In his shout out to 'The Group Dance 98', Bieber, 25, captioned the group's Swoosh styled video 'Yummy' a post that excited the group led by Tilah Pacbro.
"Boy just put Kenya on the map one too many times. Justin Bieber just tweeted my video," he wrote. Aylo was, on his part, also excited and shared the clip on his timeline saying, "They did my dance #TheSwoosh!"
Read Also: Renowned International supermodel Naomi Campbell in Kenya
This week, British supermodel Naomi Campbell strutted the Paris Fashion Week runway donning a Kenyan inspired outfit courtesy Austrian-Nigerian fashion designer Kenneth Ize.
The bold striped shirt dress that boasted of immaculately paired green, white and red got Kenyans talking.
For a moment -amidst the cheers and applause for the model who gracefully rocked the belted waist look with her signature hairstyle, it fleetingly inspired talk of Kenya's untapped potential in the international stage.