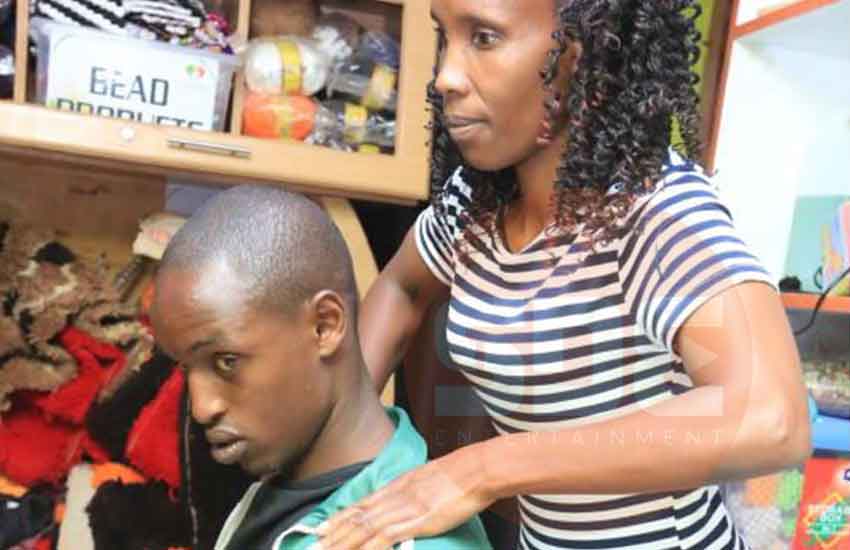 For 43 years, Christine Warigia from Ndeiya, Limuru, led a normal life and nothing prepared her for blindness.
Today, however, the once distraught woman ekes out a living by offering physiotherapy and massage services at Utugi Angels Children's Home, a job she does with ease despite lack of sight.
Upon sitting her KCPE examination at Gatuura Primary School, she enrolled for a hairdressing course. Soon, she was able to start a business with some small capital.
It is while at work in her salon that Christine, then in her mid-30s realised that her eyesight was failing. "I was very good in hair plaiting, especially cornrows and African braids; but I started having difficulties and I was straining a lot," says Christine.
Failing eyesight
She says in no time, she could no longer plait straight because of her failing eyesight. Her daily commute was also difficult.
"One day, as I walked from a nearby centre I tripped and fell down and landed on a ditch; my parents took me to Thogoto Eye Clinic," she says. Doctors prescribed that she wears glasses, which helped her for a while. However, her eyesight failed again after four months, and she sought further checkup.
Read Also: I have regained my sight after two years- Rosemary Odinga
This time around, she went home with a pair of glasses with a stronger lens, which too worked for a while and later failed.
"I was worried at the turn of events, I visited the Kenyatta National Hospital, where the doctor dropped a bombshell - my eyesight was failing," says Christine.
She adds, "I became a very difficult person to deal with, I kept to myself and even harboured suicidal thoughts, my life made no sense."
A family friend advised that Christine visits the Machakos Institute for the Blind.
Track star and a fellow constituent, Henry Wanyoike assisted her secure a place at the institution, having overcome the same predicament.
There, Christine was assessed and admitted to study braille and physiotherapy.
"I studied traditional massage for Japanese and Chinese techniques, I was best in my class," she says.
The now blind woman left the institution armed with the ability to read braille and a certificate in physiotherapy. She was ready to work in a massage parlour or salon.
However, no one wanted to employ her. "It was very frustrating, and I almost gave up until I met Martha Wambui, director of Utugi Angels Children's Home. She decided to give me a chance," says the masseuse.
Saxophone and piano
At the home, Christine's job description is massaging young adults and children with various degrees of mental disability, including those suffering from autism, epilepsy, down syndrome, cerebral palsy, dyslexia and those with behaviour and emotional syndrome.
Martha says Christine surprised everyone with her skills in physiotherapy.
Read Also: Massages with 'happy endings' on the rise in Hurlingham
She uses instrumental music to soothe difficult clients and says her clients especially like music with the saxophone and piano.
"On realising her special gift I housed her in the home; she relates well with children in the institution. She is no longer a victim, she has massaged and stretched those with stiff limbs to become useful people in society," says Martha.
Margaret Muthoni, a parent to one of Christine's patients says that her son was admitted in the facility in a bad state and has since improved."
Eight months ago my son had speech difficulties and was hyperactive; he is now calm and can speak and respond to speech," she says.
Today, Christine lives with the mantra that disability is not inability." I am just abled differently," she says.