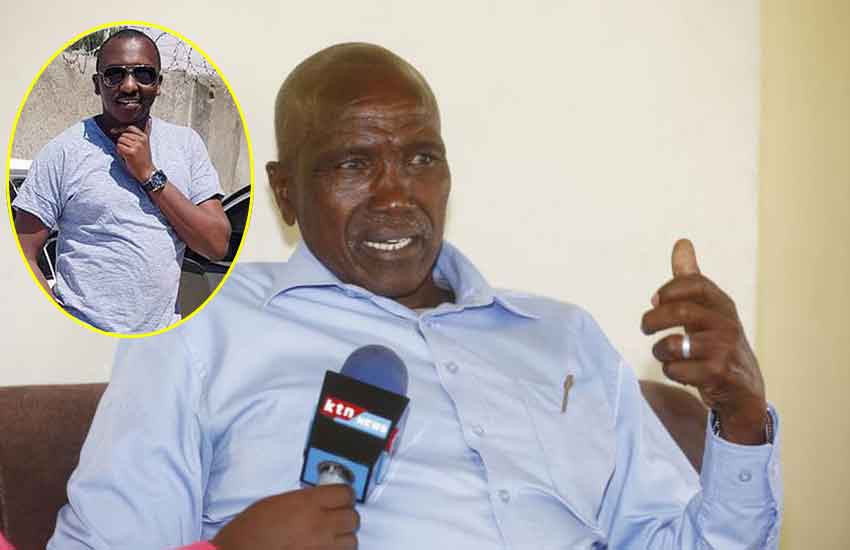 The family of a policeman attached to Deputy President William Ruto's offices yesterday said they unsuccessfully tried to reach him after receiving money from him through mobile phone transactions.
Sergeant Kipyegon Kenei, 33, was found dead in his house in Villa Franca estate in Imara Daima, Nairobi last Thursday at about 4 pm, with a bullet wound to the head.
His father John Chesang yesterday narrated how his son sent him Sh10,000 through M-Pesa and did another Sh35,000 to his wife, Judith Yegon.
Kenei did not, however, answer or return phone calls they made to him to find out what the money was meant for.
The money was transferred from Kenei's Equity Bank account a day before his body was found in his house.
According to the data obtained, Kenei spoke with his wife on Tuesday February 18 at 9:41pm before he sent her a message 10 minutes later. The Sh35,000 was transferred from the bank's account on February 19 at 12:25am while Chesang received Sh10,000 at about 7:32am on Wednesday.
At 12:25am on Wednesday, his wife sent him a nodding emoji and asked what the money was for, but there was no response. At 4:50 am on Wednesday, his wife sent him another message, in question marks, seeking to know the purpose of the money, but there was no response.
Kenei's mobile phone was off for the better part of Wednesday until 9:25pm when his wife sent a message to him seeking to know where he was.
Speaking to The Standard from his home in Chamasis village in Rongai yesterday, Chesang wondered why his son would send them money then refuse to answer calls or reply to text messages.
Read Also: Missing Ruto office guard in Sh39b fake arms probe found dead
No communication
"It is hard for us to comprehend if my son sent us money or someone used his account, because there was no communication. We received the money unexpectedly and there was no urgency for it," said the father.
Efforts to reach out to Kenei through his social media platforms were also futile, as his accounts, including Facebook and Twitter, were deactivated, leaving the family in distress, Chesang said.
Ms Yegon also frantically tried to reach him through WhatsApp, but he still did not respond.
Chesang revealed that the highest amount of money Kenei would send to his wife was between Sh2,000 and Sh3,000.
"The Sh35,000 was very unusual to us," said the grieving man.
He said he suspected that his son, the fourth in a family of seven, might have been in distress when making the transaction.
Chesang said it was unlike Kenei to communicate to the family at night, unless he was facing a pressing issue that required immediate attention.
He said normally his son would switch off his mobile phone at around 9pm every night, saying he needed time to relax after work.
Demanding job
"He would tell us that his job was demanding and that he needed time to relax after 9pm, and that is why he would switch off his phone," Chesang said.
He added: "The death of my son has taken a toll on our family. We suspect he was tormented, forced to send us the money by assailants who killed him."
Kenei was scheduled to record a statement with the Directorate of Criminal Investigations in connection to a Sh39.5 billion fake firearm tender.
The officer was said to be on duty when former Sports Cabinet Secretary Rashid Echesa hosted two foreigners at Harambee House Annex building.
Chesang said the family was dissatisfied with investigations and questioned why Kenei's body was moved from the crime scene without thorough investigations then later returned.
It took the intervention of the DCI boss George Kinoti to have homicide department take charge of the crime scene.
"How did police carry my son's body to the mortuary and leave the pistol that lay next to it? Didn't we have investigators to comb the house?" he asked.
Read Also: Fake arms deal - Ruto says arms dealers breached his security
Kenei's elder brother, Kimutai, said they suspected he might have been killed by assailants who later dumped the body inside his house.
Kimutai questioned why there were no blood stains in the house whose door was found open when the body was found.
In addition, the family wants the DCI to retrieve Kenei's last communication and its content. "We want to know who was calling him and the message they were having. It is such information that will lead to key suspects in his mysterious death arrested," said Kimutai.
Homicide detectives yesterday revisited the officer's house and reconstructed the scene using experts.
Mr Kinoti led the team including doctors and a cartoonist to reconstruct the scene. They staged a mock shooting to confirm if the gunshot could be heard and how far. Neighbours said they did not hear any sound of gunshot from the house where Kenei lived.