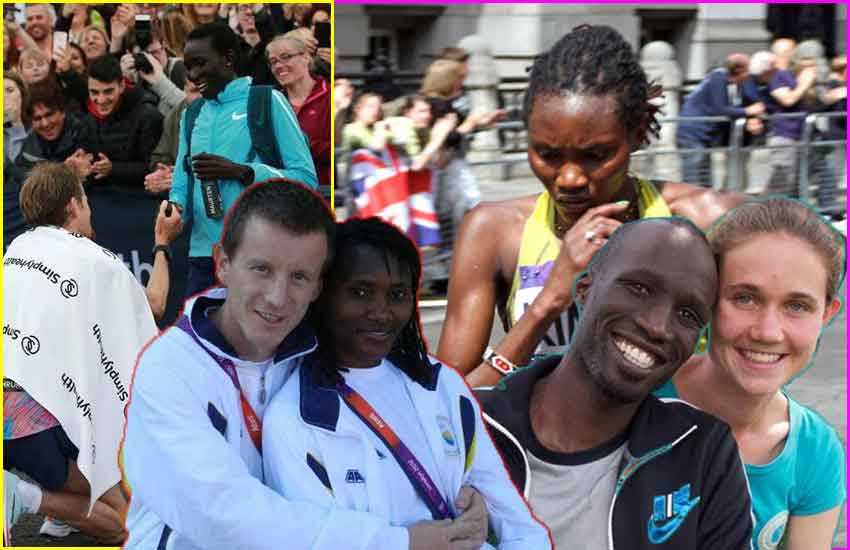 Kenya no longer vibrates with lonely hearts thanks to athletics. The sport stands out as the fulcrum upon which sparks of love unite sporting talents from different continents.
Kenyan men and women still treasure their African culture despite having residences, and even nationalities, abroad and they had to stay true to culture in the case of women who had to cross borders and stay at their marital home as culture demands.
Bells started ringing on the tracks while in competitions abroad, where they brewed love and sealed it with mursik (sour milk).
Lornah Kiplagat and Pieter Langerhorst
Lornah Kiplagat, a naturalised Kenyan-Dutch-woman and former world 21km record holder, raced her way into marriage with Dutchman Pieter Langerhorst in 2002.
Kiplagat, who was born and bred at Kabiemit village in Elgeyo Marakwet, followed her heart when she met and fell in love with Langerhorst in 1997.
"I changed my citizenship because, according to our African customs, a woman leaves her parents' home for her husband's. That is what I did," she said on Thursday.
The 45-year-old Kiplagat said money was never a motivation in her life.
"It should not be the ultimate goal for happiness in life. Personally, there are so many things I like doing which bring me happiness. Acquiring money is the least of them," she said.
Langerhorst was the marketing director of an American firm that had taken interest in Kiplagat's achievements on the track.
"I was assigned the duty of signing her up for a sponsorship deal and two things happened: I signed her up and fell in love," he said.
Their relationship started in 1997 and got married in 2002.
"I flew in my parents to Kenya from Amsterdam to help me seek her hand in marriage. The dowry negotiations took the whole day," he said in an earlier interview.
Read Also:Kenyan athletes don't dope, secret 'drug' for their excellence is mursik!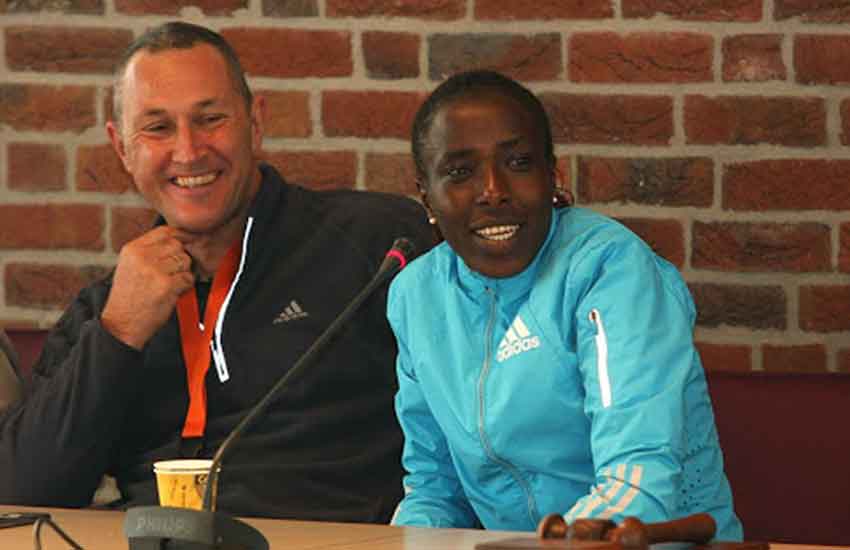 The ceremony took place in Kabiemit in Elgeyo Marakwet, complete with all traditional rites.
After the engagement, the couple flew Kiplagat's parents to Amsterdam for their wedding in 2002.
"Mum was particularly impressed with The Netherlands and commented that I was being married off to a fertile country just like our home in Keiyo South," Kiplagat said.
"She even asked us to rear cows just like we do in Keiyo."
She gained citizenship later in 2003 which allowed her to compete for her adopted country.
Langerhorst close relationship with his mother-in-law got a jump-start, thanks to Kalenjin's sour milk (mursik).
When Kiplagat won the 2007 World Cross Country Championships in Mombasa, the media asked her if she was proud donning the Dutch flag, especially at her matrimonial home.
And she responded: "I come from Keiyo community. I adhere to the Keiyo traditional culture where girls are regarded as 'butterflies' who can land anywhere on the planet, live and even get married."
"My husband (Pieter) paid dowry and got the blessings of Keiyo elders. I am proud to fly the gold medal to The Netherlands," she said.
Read Also:Kenyan sportsmen and women who put their money into good use
Hilda Kibet and Hugo van Den Broek
Kiplagat's move seemed to have inspired her cousin Hilda Kibet, who married Dutch marathoner Hugo van den Broek, fondly known as Kipchirchir (one always in a hurry).
Hilda went to The Netherlands on a track scholarship and four of her sisters are athletes. They are former world 5,000m silver medalist Sylvia Kibet, Ivy Jepkoech and Elvin Jelimo, who are twins.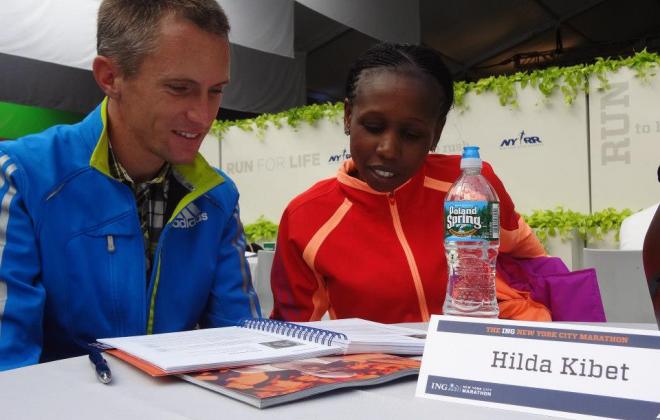 Ivy is based at Global Sports Communications camp in Nijmegen, The Netherlands while Elvin is based in the US.
Valentine, the youngest in the Kibet family, competes in some races in The Netherlands.
Wesley Korir and Tarah Mckay
Wesley Korir, the former Cherangany MP and 2012 Boston Marathon winner, married Canadian athlete Tarah McKay, his former teammate on the Louisville track and field team, in March 2010. They have a daughter named McKayla.
While a young boy, Korir could run five miles (8km) each way to Bilbilbei Primary School and then back for lunch.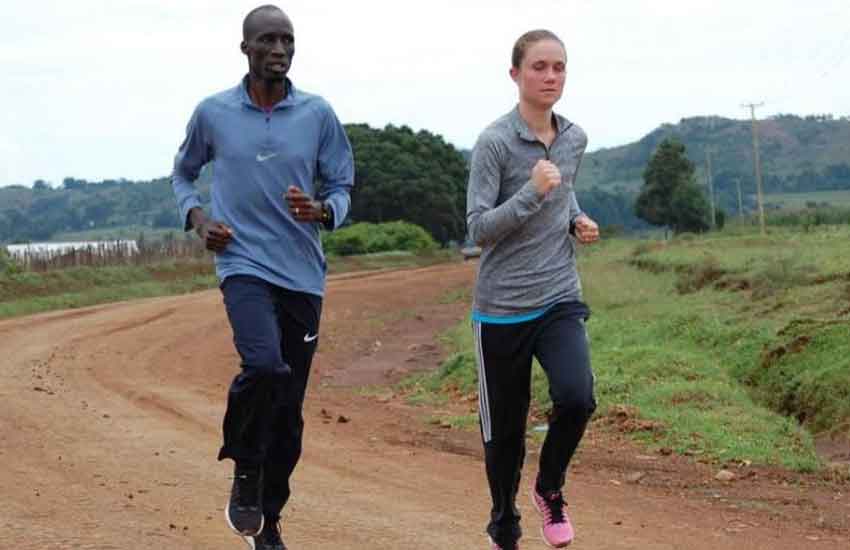 He performed well in his Kenya Certificate of Secondary School Examinations (KCSE) and secured admission at the University of Nairobi to pursue a Bachelor of Arts in Anthropology but opted for a US track scholarship. He landed on a Canadian track scholarship at the University of Louisville and that is where he met McKay.
Magdalyne Masai and Jake Robertson
At the nearby Bugaa village in Mt Elgon, Magdalyne Masai won the heart of New Zealand's athlete Jake Robertson.
Jake and Magdalyne had the moment of their lives on September 17, 2017, during the Great North Run in Newcastle. Jake was second in the race behind Mo Farah and opted to propose to Margaret at the finish line!
Read Also:800m sprinter Margaret Nyairera is snatching my girlfriend- Distraught man
And Jake got some extra cheers from the Newcastle crowd. The New Zealand star called Magdalyne, who finished fourth in the women's elite race at the finish line, and dropped the proposal.
Magdalyne then said she was left in shock after Jake found the strength to get down on one knee to propose, much to everyone's delight.
Jake told the media: "In the last mile it just randomly came to my mind that today was the day."
The athletics fans -who erupted into cheers and applause in England after Magdalyne accepted his proposal -don't know about some fairytales that bond the two.
Magdalene was born and bred in Bugaa Village in Mt Elgon and braved several challenges including the dreaded Saboat Land Defence Force (SLDF) in 2005 while a young girl and they moved from the controversial Chebyuk Settlement Scheme over insecurity.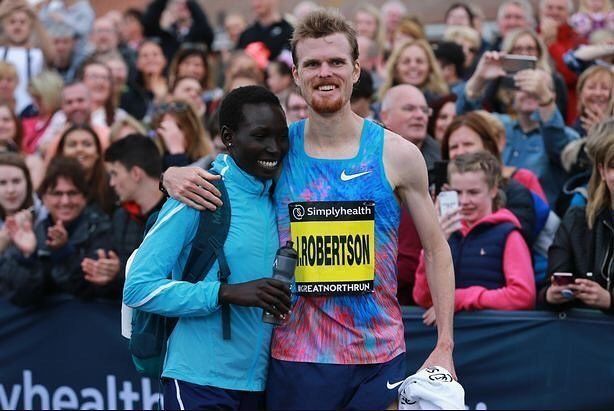 Like Hilda Kibet's family, Magdalyne's household are famous for their rich athletics pedigree. They are best remembered for dominating 10,000m junior and senior races at the 2009 World Championships. Her running siblings are Moses Masai, Linet Masai and Dennis Masai –all 10,000m world-beating stars.
In 2009, Moses won bronze in 10,000m while his sister Linet won women's gold medal in 10,000m at the IAAF World Championships in Berlin.
Dennis, another sibling, won 10,000m gold at the IAAF World Junior Championships in Moncton, Canada, in 2010 while Magdalyne has half marathon personal best of 67.31 set in Ostia Lido in Rome last March.
Read Also:Family in shock - The untold story of athlete in gender saga
Lucia Kimani and Sinisa Marcetic
Lucia Kimani Mwahiki, a Kenyan-born Bosnian athlete, married her Bosnian Serb husband Sinisa Marcetic in 2014. They met in Salzburg, Austria, where they ran a half marathon race. They competed at the 2016 Rio Olympic Games.
Agatha Jeruto and Olev Bastiansen
Agatha Jeruto, a member of the triumphant 2014 World Relays team in Bahamas, married Norwegian Olev Bastiansen at Poa Place in Eldoret in 2015.