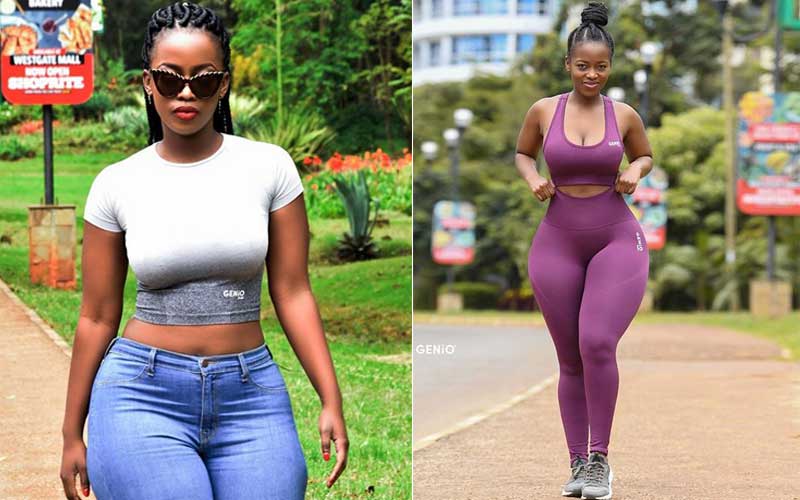 Socialite Corazon Kwamboka has revealed she wants to be a mother in 2020.
Speaking in an interview on Chatspot, she responded to a question by a fan who asked if she was going to have a child in the future.
 "Kindly ask Corazon if she would like to have a baby in future" asked the fan. Corazon replied with "2020 baby."
Other than starting a family, she shed more light on her life as a Kenyan socialite and how that has affected her career and relationships. 
Becoming a socialite
The curvaceous Corazon first rose to fame after pictures of her went viral on social media, being ranked as one of the top socialites in Kenya. According to her, she had no intention of being a socialite but is grateful that things worked out the way they did.
READ ALSO: I earned my campus grades, Corazon Kwamboka
"I became a socialite when I was still in the school of law. I had gone to the studio for a project with Eric Omondi and the photographer there told me I looked good and if he could take a picture of me. He did, posted it on Facebook and later, my friend called me to tell me my pictures had gone viral. I don't regret it really, I'm actually glad it happened the way it did."
Corazon, who is an Advocate of the High Court of Kenya says she rarely practices law because of the socialite title sthat gives people a different perception of who she really is.
"It made me not practice law. I feel that at some point, I was being misjudged in a way so I kinda pulled back from the law. I didn't even want to go look for a job because I was scared 'how will they even give me the job' and also it affected a lot of my relationships since I became Corazon Kwamboka the socialite," she said.
Relationships
With numerous men flooding her comments section the moment she drops a picture, Corazon says the men she has let into her life often feel insecure. This, according to Carozon, results in them constantly keeping tabs on her or questioning every move she makes.
READ ALSO: How my socialite daughter Corazon Kwamboka broke my family - Dad
"I've dated but usually the guys get insecure because of the comments on social media and the perception they get. They feel like yeah I know you in person but few months down the line the insecurity kicks in, they start asking why this guy is sending you a message, why are you going to the club."
My body influenced my business
One of the shows panelists asked Corazon how she maintains her curves and she responded by saying, "for me mostly it's genetic. Most of my family members look like this. But you know as you get older you notice that you are starting to gain weight in ways that you don't like, so then is when I started to work out."
READ ALSO: Socialite Corazon Kwamboka reveals face of racist man sending her threats
According to Corazon, whenever she went to try on workout clothes, they didn't fit well and that gave her the idea to start her own sportswear line.
"When I was working out nothing fit me so that's how I started Genio Sports Wear."