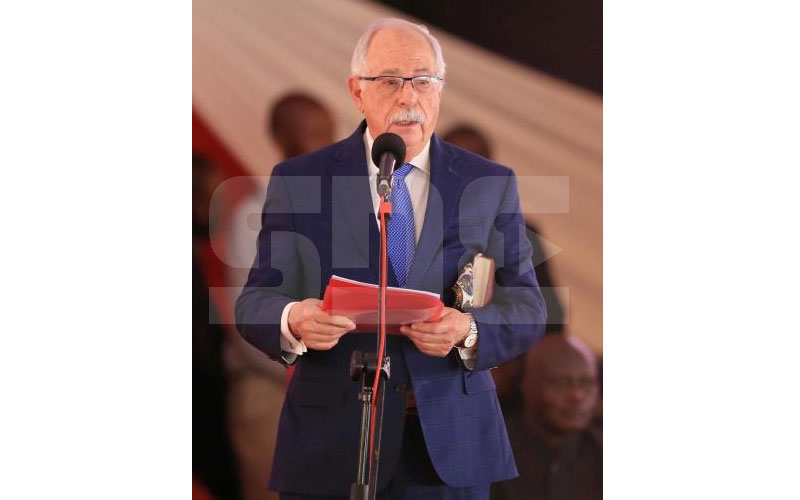 Former President Daniel Arap Moi's personal physician yesterday tickled mourners with a personal revelation about his patient.
Dr David Silverstein spoke of the deep trust and mutual respect between him and his patient over the years that saw the two have occasional dinners and a weekly cup of tea whenever the doctor went to see his patient.
He also confirmed the former president's love for meat, as had been disclosed by his son Baringo Senator Gideon Moi, and added that the former Head of State enjoyed a glass of special sweet sacramental wine from Israel.
Moi would share the wine, which he christened "dawa ya wazee" with his doctor and his close friend, former Attorney General Charles Njonjo.
Silverstein recounted his 42-year-old relationship with the man he described as "an exemplary patient," and Moi's strong will to live. The former president, says Dr Silverstein, spent his final days listening to recorded sermons of evangelical preachers, his personal physician told mourners yesterday.
He confirmed earlier reports that Moi was older than the documented 95 years, saying the former Head of State was at least 103 years old. He spoke of a close relationship with his patient that began in 1977 when Moi was Vice President. After Moi became President, Silverstein put him on weekly medical checks.
He said Moi strictly followed medical advice and prescriptions, including medicine, diet and lifestyle and that he fought for his life to the final breath.
"In his last few days, he looked re-invigorated to the point that medicine cannot explain. He continued to be the exemplary patient he was," he said.
"During his final illness, this strong leader fought hard. His belief in his faith and his family never faltered," he said.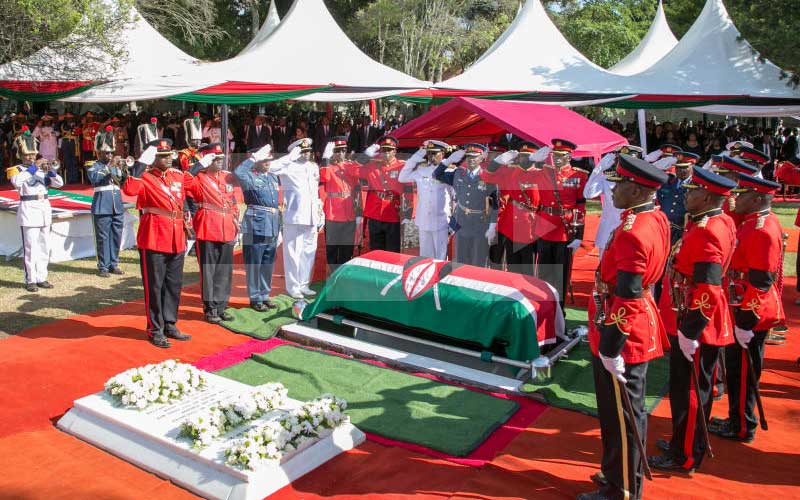 According to Silverstein, Moi drew strength from his Christian faith and family in his last moments.
"He listened to sermons of evangelical preachers and was excited when his sons Raymond and Gideon appeared on TV," he said.
Moi, he said, was a fighter.
"Alas! His whole body had fought all its battles. At the age of somewhere around 103, Mzee died," he said.
So close were the doctor and his patient that Siverstein said a special Hebrew prayer for the former president. The Jewish doctor confessed he had been offering similar prayers for his patient in synagogues for the last four months.
The physician said that while Moi took medical advice seriously, he could not be dissuaded to cut down on his long working hours.
"I even tried to use the Bible and quoted the book of Exodus, where Jethro warns his son-in-law Moses that working long hours would wear him out, but in vain," he said.
In the end, Siverstein gave in and fitted into Moi's busy schedule.
The physician, who has roots from Israel, recounted his family ties with the former President, disclosing that Moi attended his wedding. The former President also attended the circumcision of Siverstein's son, eight days after birth according to the Jewish traditions.
In Israel, Silverstein took Moi to various holy sites. Israel became the former President's choice destination whenever he needed further medical check-ups on a troublesome knee and cataract surgery.
"He was devastated when his friend, the Prime Minister of Israel Yitzhak Rabin was killed and sadly he was unable to attend the funeral because he was travelling. I talked him into attending a ceremony we have among the Jews, where we mark 30 days of mourning, which he attended," he said.